Microsoft's new Bing election site tracks candidates, will predict the next U.S. president
Who's going to win? Eventually, Bing will try and tell you.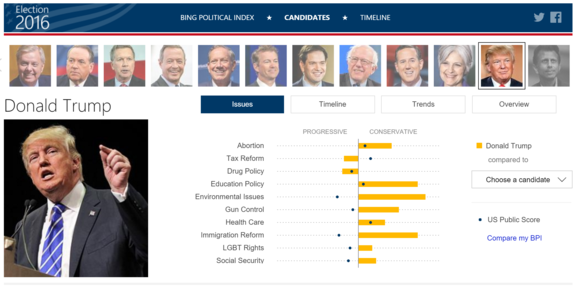 Credit: Microsoft
Microsoft's Bing has launched an election site for those who prefer their nuanced political positions boiled down into easy-to-read charts and graphs—and yes, Bing will try and predict the outcome at a later date.
On Tuesday, Microsoft launched the Bing Political Index, an informational box that will appear when users access the site through a direct link, Bing.com/elections. But a candidate-specific box will also appear when users begin searching for that candidate's name, such as "Donald Trump".
The site lists the candidates alphabetically by name in a horizonal carousel, with candidates who have withdrawn from the race (Bobby Jindal, at press time) at the end. Bing breaks down each candidate by their position on the issues, a timeline of key quotes and events, how the candidate has fared on Twitter or Bing by number of queries, and, finally, a general biographical overview complete with funding numbers.
Why this matters: It seems a little condescending to boil each candidate's viewpoint on a given issue down to a numerical score—though, if you try to follow the twists, turns, and quotes from each candidate on a daily basis, it begins to make a bit more sense. Voters start to tune in as the primaries draw closer, and the political winds can dramatically shift, and fast. One example: though Donald Trump is considered to be the de facto front-runner for the GOP nomination at this stage of the game, FiveThirtyEight.com considers him to be an absolute non-entity, considering his lack of endorsements from established politicians. Soon, we'll know who was right.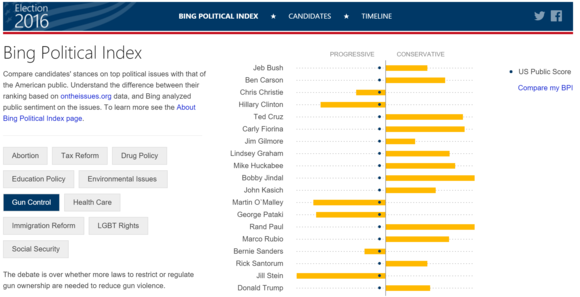 Bing breaks down how each candidate feels about an issue. Credit: Microsoft
Scoring the liberals, conservatives
Most of the site is devoted to what Bing calls the "Bing Political Index" (BPI), a relative position on abortion, tax reform, environmental policy, gun control, health care, and more. The comparison, according to Bing, relies on two scores— a "Candidate Score," derived from issue analysis work done by ontheissues.org, and a "Public Score," the public's consensus on a given issue, using data collected by the Bing Predicts team and its predictive learning algorithms. Each BPI score will be updated on a monthly basis, reflecting the evolving positions of the public and each of the candidates.
By default, each candidate is compared against the Public Index across a variety of issues. Users can also compare each candidate to another. Alternatively, users can track a given issue, and see where each of them stands on it. And if you'd like, you can take a short quiz designed by Ontheissues.org to determine how you lean on each issue—then find the candidate who is most aligned with your views.