Microsoft's new Bing election site tracks candidates, will predict the next U.S. president
Who's going to win? Eventually, Bing will try and tell you.
Bing, however, has developed a reputation for its "Bing Predicts" algorithms, which have had varying degrees of success. In the knockout rounds of the last World Cup, Bing correctly predicted the outcomes of each match, including the final; Bing didn't fare nearly as well in last year's NBA playoffs, with just 61.7 percent accuracy, according to its own estimates. Bing has also predicted the winners of reality programs such as Dancing With the Stars (95 percent) and The Voice (85 percent) whose outcomes are at least partially determined by social media.
As for the 2014 midterm elections, Bing claimed to be 97 percent accurate in predicting the outcome of the Senate races, 96 percent accurate for the House, and 89 percent accurate in predicting the various governors.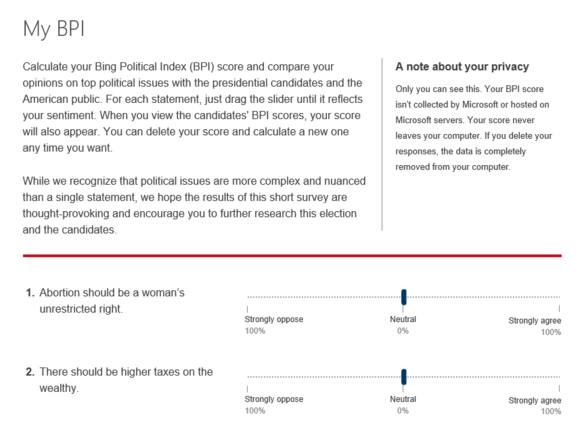 Bing's BPI quiz can help you cement your stance on key issues, and then find a candidate who aligns with your views. Click on image to enlarge. Credit: Microsoft
Not surprisingly, Bing will throw its hat in the 2016 elections, a spokeswoman confirmed. "Microsoft will be coming out with predictions in the coming months," she said in an email.
Bing will contend with traditional pollsters and gurus, such as Nate Silver, who correctly predicted the winner of the presidential election in each of the 50 states. Silver now somewhat inexplicably works for ESPN.