Prospective Yahoo buyers would have eyes on its customer data
Verizon has already said it would explore a possible acquisition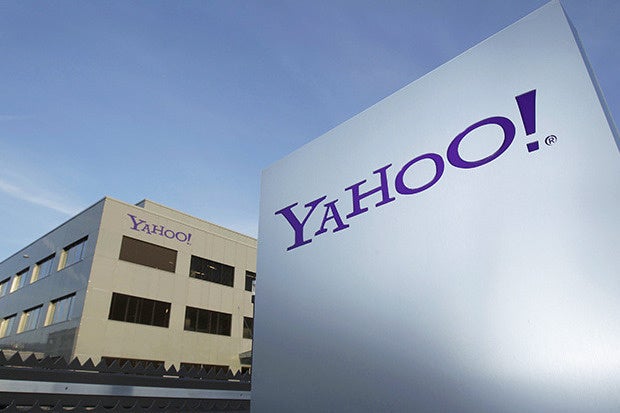 Yahoo's corporate headquarters in Sunnyvale, California. Credit: Denis Balibouse/Reuters
Potential suitors for Yahoo's Internet business could include Verizon, Comcast and AT&T, which would want to access the company's 20-year-old treasure trove of customer data.
"Data mining [of customer data] is a huge need for all these guys," said Jack Gold, an analyst at J. Gold Associates.
Carriers could use the Yahoo data to better gauge a customer's interest in certain topics and needs by better tracking their preferences for what they have historically clicked on and what ads they have bought from, Gold added.
"It's hard to assess what potential buyers would consider Yahoo's most valuable, relevant assets," added Bill Menezes, an analyst at Gartner. "It would be whatever [content or mobile ad] platforms Yahoo has created that are generating sustainable revenue or just the ability to tap into the Yahoo stream of aggregate user data. User data and platforms go hand in hand."
Whether Yahoo even would sell its Internet business is unclear, but the possibility arose again on Wednesday after Yahoo said it would shelve its plan to spin off its $31 billion stake in Alibaba, a Chinese e-commerce company, and instead would spin off all its other core Internet assets into a new publicly traded company.
Maynard Webb, chairman of Yahoo's board, said the spinoff plan doesn't mean Yahoo is actively trying to sell the Internet business, but he said if a good offer comes along, the board has an obligation to look at it.
Yahoo's core businesses include Yahoo Mail and Yahoo News, the third-most visited Internet sites in the U.S., with 210 million visitors in October, according to ComScore. That puts it third behind Google and Facebook.
Analysts have valued that core business at $2 billion to $4 billion. A Cantor Fitzgerald analyst put the core Internet business value at $3.9 billion in October.
Meanwhile, Yahoo shares were at $33.60 mid-day on Wednesday, down from $50 in early January. Yahoo has invested in online video, advertising software and mobile software under CEO Marissa Mayer, but revenues have dropped from $4.5 billion in 2012 when she took the reins to $4.4 billion in 2014, and are expected to drop to $4.04 billion in 2015.
If the legacy Internet company does decide to sell its Internet business or parts of it, the interested parties are expected to include some Internet service providers that are also wireless carriers or cable companies interested in finding creative ways to connect to video-obsessed customers.
Verizon CEO Lowell McAdam told a Business Insider conference on Tuesday that Verizon would explore a possible acquisition of Yahoo's Web assets, according to a report from Bloomberg. A day earlier, Verizon Chief Financial Officer Fran Shammo said the company would consider a possible deal with Yahoo "if we see there is a strategic fit and it makes sense for our shareholders."