Siri in iOS 7: Apple still playing catch up with Google, but moving aggressively
During the WWDC 2013 keynote, Lex Friedman says although Siri updates still appear to lag behind Google Now, Apple's looking to hit Google where it hurts: in the search activity.
iOS 7 isn't shipping until the fall, Apple says, so perhaps Siri's approach will change before then. Right now, though, this transcription difference is one area where Apple's playing catch-up.
The Bing zing
One of Apple's other Siri announcements during the WWDC keynote related to its newfound integration with Bing. That's Bing, as in B-I-N-G-oh my goodness, it's not Google. Bing as in Microsoft Bing.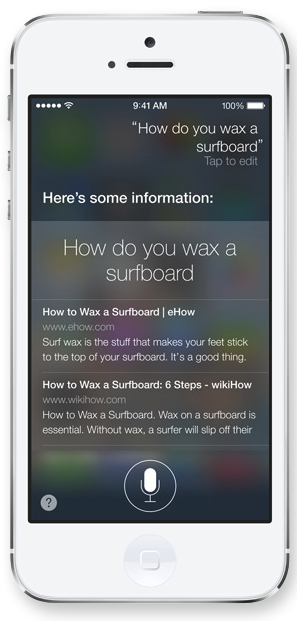 In iOS 7, Siri will incorporate search results directly from Bing.
Ask Siri a general knowledge question that it's unable to answer, and Siri will no longer ask you if you'd like it to search the Web for the answer. (In iOS 6, when Siri asks that question, if you answer in the affirmative, you're kicked out to Safari, wherein the search is performed using your default search engine, which is probably Google.)
In iOS 7, though, ask Siri how to wax a surfboard, and you'll get Bing search results, with webpage titles, URLs, and descriptions presented directly within Siri's own interface. Tap the one you're after, and you'll go straight to the result.
No Google required. No Google involved.
The enemy of Apple's enemy is its friend. Microsoft isn't a threat to Apple these days, but Google sure is. By bypassing Google for Siri-driven searches, Apple robs the Mountain View company of all sorts of data the company would surely covet: What voice-based searches people are performing and when, and which results they select afterwards. It's valuable data that Google would just love to get its anthropomorphized hands on.
And Apple's going to hand it to Microsoft instead.
This is a competitive move. It's Apple thumbing its nose at Google. Until now, Google's been the default search engine on iOS and most Android devices, and Bing's main conquest has been the under-loved, underused Windows Phone.
With iOS 7, that will shift, and even if the impact on Google is short of monumental, it's still significant. The good news for Google is that Apple mentioned during the keynote that mobile Safari's new multi-function location bar in iOS 7 includes type-ahead results powered by Google, so clearly Apple isn't cutting Google out of iOS entirely.
Still, this initial Bing step shows that Apple could cut Google off from iOS search activity at any time. This is a first step, and an aggressive one at that.
Even though Google's approach seems technically superior to Apple's, it's actually Apple who's in the advantageous position here. Apple can—and almost surely will—improve Siri's underpinnings, transcription speed, and interface. And Apple, of course, owns the entire iOS ecosystem, and its devices make up a massive chunk of the market; if Apple decides to keep favoring Bing results over Google's, it's unlikely Apple (or Siri) will listen to Google's cries.