These are the filthy words Google voice search doesn't want to hear
Google takes a decidedly more puritanical view towards "naughty" voice searches than it does toward comparable typed searches.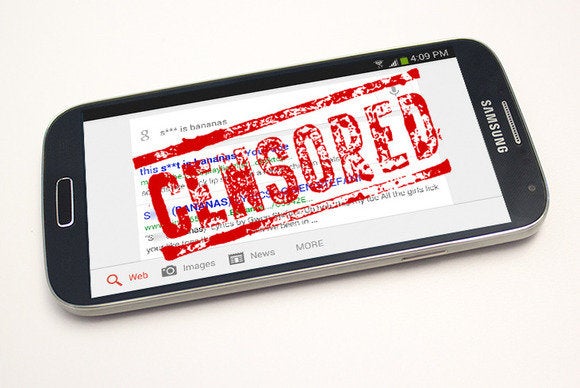 Google takes a decidedly more puritanical view towards "naughty" voice searches than it does toward comparable typed searches.
By default, Google blocks voice search results that it deems offensive. Presumably, its motive has less to do with keeping you from cussin' than with shielding users from questionable content in the event that Google's software misunderstands their spoken request for "pictures of shih tzus," "chicken plucking contest," or "How can I get to Bangkok?" What could possibly go wrong, you ask? Just think of Google voice search as a spoken-word equivalent of autocorrect.
Anyway, if you vocally google the s-word, the search bar will populate with "s***" and will return a nonsense search for the letter "s," though you can usually find what you're searching for if you provide enough additional context.
Users can disable the software's voice search censorship in mobile search settings (though as far as I can tell, disabling it in the desktop Chrome browser is impossible), and of course there are no restrictions on inputting naughty words from a real or virtual keyboard for a standard Google search.
But in today's anything-goes, South Park culture, what words still qualify as dirty? Google has never issued an official public no-no voice recognition list, so we decided to try to create one.
In the end we were able to identify 21 words that Google voice search refuses to acknowledge. However, the company's standards for which words receives the asterisk treatment are wildly inconsistent. And some words that aren't censored are more inflammatory than some of the ones that are.
Note: The content below alludes to all manner of cuss words, sexual acts, and ethnic slurs. These terms are not part of my everyday vocabulary (in fact, I felt downright filthy after this exercise). Out of respect for our audience's sensibilities, we've tried to avoid naming or showing the actual terms, even the comparatively mild ones (but you probably won't have any trouble figuring them out). Feel free to add your own finds and opinions in the comments, but please exercise similar discretion.
The usual suspects
As mentioned earlier, the four-letter s-word gets censored. Similarly, the four-letter f-word and its conjugations are no-nos, and return search results for the letter "f" alone.
The four-letter p-word for "urine" and "urinate" was one of the featured terms in George Carlin's infamous "seven dirty words" routine from 1972, but I was surprised to find this relatively mild term still being censored 42 years later.
Nevertheless, you can successfully search for some forms of the word that specifically refer to being angry or annoyed. Pissy, for example, appears asterisk-free, and the search will even provide a robo-spoken definition, along with a written dictionary description that labels the term "vulgar slang."