Review: The iPhone X is the best phone for business, period.
Apple's new iPhone X sets the scene for the next decade of iPhone development with a host of futuristic technologies. While expensive, it is the best smartphone available today.
Ten years ago, the original iPhone ushered in a new world for mobile computing and sparked the bring-your-own-device (BYOD) movement at work. Soon after it arrived, iPhones were showing up everywhere in the office, forcing companies to quickly scramble to figure out how to manage them.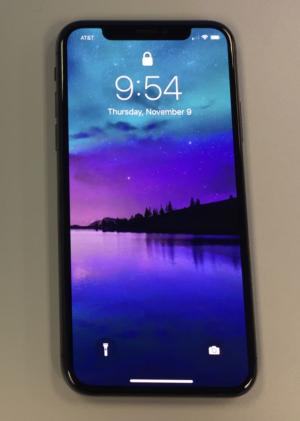 Michael DeAgonia
The iPhone X, with its distinctive "notch" at the top and the inky blacks of an OLED display.
That sleek (and deceptively simple) device not only debuted a new touchscreen that would radically change how people interact with technology, it also shook up carrier control, set a new target for Apple's competitors to aim for and created a platform for countless mobile app developers. Oh, and it eventually gave birth to a highly successful tablet boom with the iPad.
This September, the iPhone was reborn as the iPhone X, something Apple CEO Tim Cook said would set the scene for the next decade of iPhone development. The newest device, which arrived Nov. 3, marks a return to a simpler form and serves as a showcase for cutting-edge technology.
As such, it's the best iPhone you can get, it's almost certainly the best smartphone on the market today, and it's the one best suited for business. But with a starting price of $999, it's expensive, which give companies pause if they're in the habit of providing iPhones for some of their employees.
The role of iOS 11
No mobile device is an island. Hardware is just half of the equation; the other half is software. With that in mind, the most important thing to remember about the iPhone X (and the also-new iPhone 8 and 8+) is that they all run iOS 11, the most secure mobile OS available.
[ Further reading: How iOS 11 makes mobile management easier ]
Smartphones carry everything from sensitive corporate data and communications to financial info, contact details for clients, access to servers and cloud storage, web browser history, photos, videos, company tools and more. So it's important that all this data be kept private and secure. Out of the box, iOS 11 does that; Apple has made privacy and data security a priority, and it shows. Device encryption, end-to-end secure Messaging, FaceTime and iCloud sync encryption are all part of the package, which Apple spells out in detail.
Thanks to BYOD, IT admins now have a variety of EMM and MDM app suites available to lock down iPhones even more – and the reassurance that apps available from Apple's App Store have been vetted for quality and are free of misbehaving and security-compromising flaws. Those measures have helped create a thriving ecosystem of devices and services for just about any workplace environment, workflow or individual need.