D-Link is finally shipping the last of the Ultra-series routers it announced at CES 2015
The US$280 DIR-885L/R is a 4X4, dual-band, 802.11ac router that will eventually deliver multi-user MIMO.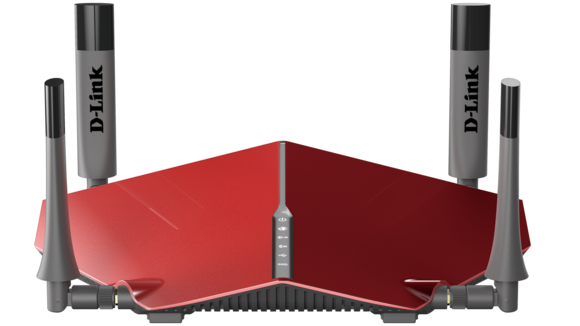 Credit: D-Link
As we look forward to CES 2016, D-Link is finally shipping the last of the radical-looking Ultra-series routers it announced at last year's CES. The 4x4 DIR-885L/R promises to deliver top speeds of 2167Mbps on the 5GHz frequency band and 1000Mbps on the 2.4GHz band.
As with most higher-end 802.11ac routers today, the DIR-885L/R supports beamforming right out of the box. Beamforming enables the router to concentrate its signal in the direction of the client instead of simply broadcasting it everywhere. If the client is also capable of beamforming, the two devices can exchange information about their respective locations to optimize the signal path they use to communicate.
D-Link's press release indicates that the DIR-885L/R supports multi-user MIMO, too, but a footnote explains that a firmware update will be needed first. And after the firmware becomes available, you'll also need a client that supports MU-MIMO to derive any benefit from it. Here is an in-depth explanation multi-user MIMO.
The DIR-885L/R is powered by a 1.4GHz dual-core processor, 128MB of flash memory, and 512MB of DDR3 RAM. It's equipped with USB 3.0 port and one USB 2.0 port, so you can share both a printer and a storage device over your network, and it has a four-port gigabit switch. Its four antennas are removable for upgrades.
Why this matters: We've seen routers get bigger, more powerful, and more expensive all year long. Priced at $280, the DIR-885L/R isn't exactly cheap, but it's less expensive than the so-called tri-band routers that support two independent 5GHz networks and one 2.4GHz network. So at least you're not being forced to pay for features you might not benefit from.
We've pinged D-Link about getting a review unit it, and we're working on long-overdue roundup of 802.11ac routers that we'll post sometime before the end of the year, so stay tuned.