Apple's five most important displays
To celebrate Apple's achievements in display technology, let's take a look at five of the most important displays Apple has ever released. These displays have carried with them the most impact and influence on the computer industry, Apple, and even the wider world as a whole.
The gamble didn't pay off. The active-matrix LCD drove up the price too high and effectively sunk the Mac Portable in the market. Despite that, the Portable's display remains important because, as Apple's first laptop LCD, it set a precedent for ultra-high quality that Apple still chases to this day.
iMac G4 800 display (2002)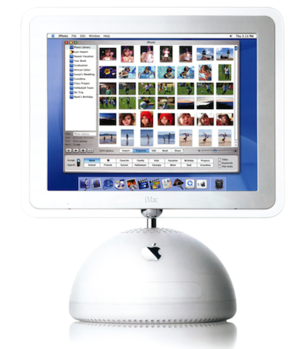 Released: January 2002
Type: Color TFT LCD
Native Resolution: 1024 by 768
Size: 15-inch diagonal
The iMac G4's display is more than the sum of its parts. Separately, you had a color TFT flat-panel LCD and a fluidly adjustable mechanical arm. But combined, the two components conjured a kind of magic that turned Apple's first mainstream LCD-bearing desktop machine into a distinctive triumph.
Sure, Apple could have just stuck the flat panel display in a rectangular box (similar to what we see in iMacs today), but instead the firm chose to debut mainstream desktop LCDs with a distinctive flourish that defined the personality of the machine and maintained Apple's head-and-shoulders design lead above its competition.
It's worth noting that Apple's first desktop LCD first appeared in 1984 as a pricey accessory to the Apple IIc; its first color desktop LCD came integrated in 1997 as part of the Twentieth Anniversary Macintosh. But both were expensive, niche products that symbolized excess as much as they did technological innovation.
The first Apple desktop LCD that really mattered shipped as part of the iMac G4 in early 2002. It proved that LCDs in iMacs worked, and we still see the results in Apple's products today.
Apple Cinema Display (1999)
Released: August 1999
Type: Color TFT LCD
Native Resolution: 1600 by 1024
Size: 22-inch diagonal
"The Apple Cinema Display is without a doubt the largest, the most advanced and the most beautiful LCD display ever offered," said Steve Jobs in the August 1999 press release for Apple's first Cinema Display, a 22-inch flat-panel monitor that introduced a number of firsts for Apple displays. Among them, the Cinema Display was Apple's first display with a widescreen aspect ratio and the first with a digital video interface.
It was also (as Jobs mentioned) the largest desktop computer LCD in the world at the time of its release. Apple expertly positioned the new monitor to appeal to a new breed of high-end digital video professionals; its "Cinema" name and wide aspect ratio conveyed that Macs were the ideal platform for editing high definition video and Hollywood movies alike.
The $3999 product set a new industry high-water mark for display quality that critics loved and competitors initially struggled to match. (Even traditional Apple curmudgeons Maximum PC gave the Cinema display a 10/10 score in a 2000 review, calling it "the pinnacle of LCD technology.")
Previous Page 1 2 3 4 Next Page