Apple's five most important displays
To celebrate Apple's achievements in display technology, let's take a look at five of the most important displays Apple has ever released. These displays have carried with them the most impact and influence on the computer industry, Apple, and even the wider world as a whole.
As the years passed, Apple continued to up the ante with ever-larger, sharper, and higher-contrast displays all the way up to 30-inches. Today, even iMacs ship with their own "Cinema Displays" (not in name, but in spirit) signifying the importance of the 1999 Cinema Display as a first step into a wider world of expansive monitors.
MacBook Pro with Retina Display (2012)
Released: June 2012
Type: Color IPS LED-backlit LCD
Native Resolution: 2880 by 1800
Size: 15.4-inch diagonal
In a move that harkened back to Apple's choice of an ultra-high end display for its first portable Mac, Apple introduced the world's highest resolution notebook display (at the time of its release) as part of the 15-inch MacBook Pro with Retina Display in 2012.
Apple first debuted the "Retina" display brand on the iPhone 4 in 2010, then it made its way to the iPad 3 in 2012. It only made sense that Apple would continue to push ultra high-density LCDs into the notebook space.
The key behind the 2012 MacBook Pro's Retina screen is that its 2880 by 1800 pixels were crammed into a 15-inch diagonal space, resulting in a 220 pixels per inch density. It's that last number that makes it impossible for the human eye to distinguish an individual pixel at the average viewing distance. That meant ultra-sharp text and images in a league beyond those found on any other notebook at the time of its release.
As the first non-tablet personal computer to ship with a high pixel density display, the 2012 Retina MacBook Pro marked the dawn of a new generation of ultra-sharp desktop and notebook monitors. As more competitors follow Apple's lead, historians may one day look back at the MacBook Pro with Retina as the decisive turning point in a high-density display revolution.
Macintosh 9-inch display (1984)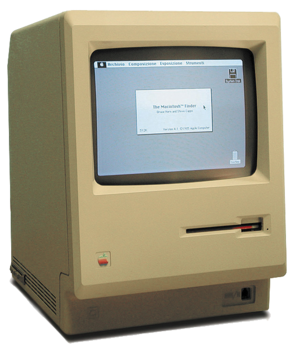 Released: January 1984
Type: Monochrome CRT
Native Resolution: 512 by 342
Size: 9-inch diagonal
Few would doubt that Apple's most important display shipped with its first mainstream graphics-oriented computer, the Macintosh, in 1984.
The 9-inch black and white CRT embedded in every Mac set a new standard for high quality personal computer displays with its sharp, flicker-free, almost paper-white display. Apple included it out of necessity, since the Mac needed to accurately render what was then considered a very high resolution bitmapped image.
That high resolution ensured that the Mac could only display two colors: black or white. Providing even rudimentary color for a 512 by 342 display would have been prohibitively expensive in 1984, both in terms of the memory required to handle it and the monitor required to display it.
Previous Page 1 2 3 4 Next Page