Fire up the NetInstall Service
How to configure the NetInstall Service and start it up.
Images
We'll skip the Global Access Filter option, but what this allows you to do is restrict access to your NetInstall server to specific MAC addresses. No need to do that here. Just make sure there's no check in the "Restrict access to images" checkbox.
What you should notice is that there are no images available under the Images setting. That's because we haven't moved the image we created last week to the NetBootSP0 folder.
Click your server's Desktop.
Click the Finder menu.
Click Hide Others. You should see the open NetBoot Finder window and the NetInstall image folder you created last week. If you don't see either, you'll need to retrace the last few steps and you may need to go back to last week's lesson.
Authenticate as an administrative user if you're asked to.
After the move is complete, open the Server app.
Click NetInstall in the app's sidebar if it's not already selected. Note: Sometimes the Images setting won't update automatically. If you don't see your image in the Images window, select another service in the Server sidebar and re-select NetInstall.
Double-click your image in the Images setting.
Make sure "Make available over" is selected under the availability section.
Select "all Mac models" under the Access setting.
Make sure there is no check in the box next to "Restrict access to this image."
Verify the service is running and startup using NetInstall
Opens System Preferences on the computer you're using as a client, click Startup Disk and make sure you can see your NetInstall image.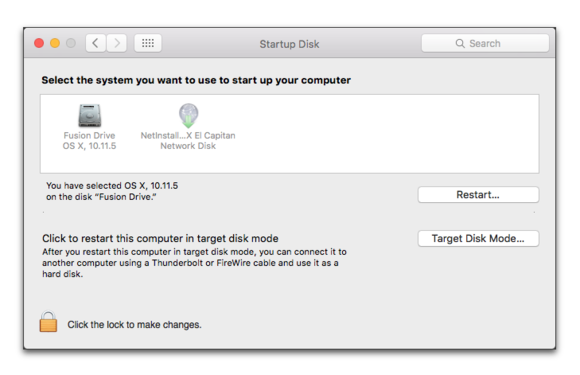 If you see your server:
Restart your Mac while holding down the Option key.
You should see your NetInstall image in the list of available bootable drives.
Select the NetInstall image and press return.
You Mac will now start up to the El Capitan installer hosted on your server.
Feel free to run the installation, which should reinstall the OS without overwriting any user data, or you can quit the installer and restart normally.
You've now booted from your first NetInstall image. Next week we'll create a NetBoot image and start your Mac using an operating system that's hosted on your NetInstall server.
Source: Macworld