First Look: iOS 5 notifications
One of the biggest changes in Apple's iOS 5, unveiled Monday, is a welcome overhaul to the iOS's relatively simple notification system.
Even though the "old" notifications approach was loved by no one, the modal box has its merits in certain cases. If you'd prefer that some alerts continue to pop up the familiar box, you can configure how apps' notifications appear on an app-by-app basis, again from within the Settings app. That way, you can re-enable the modal box for, say, text messages, if you prefer that those alerts be more prominent.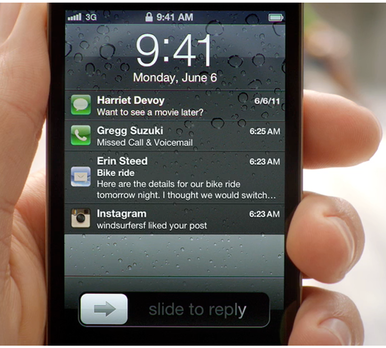 Swipe to the right on individual notifications on the iOS 5 lock screen to launch the appropriate app.
iOS 5 also revamps the lock screen. Notifications that arrive while your device is locked will stack up vertically on the lock screen, with the newest alerts listed first. While Notifications Center organizes alerts by app, the lock screen merely sorts them by time. Swipe to the right on a specific lock screen alert to navigate directly to the appropriate app.
While systemwide alert sounds—like the New Mail or Calendar alerts—are a different class of iOS notification entirely, they too score an update in iOS 5. For the first time, you can customize which built-in sound your devices use for alerts like those.
Although developers can already get their hands on a beta version of iOS 5, the rest of us will need to wait until this fall to benefit from this revamped notifications system—along with the rest of the upgrade's many improvements.