Four ways to make the Dock more powerful
Quickly access files and folders with this overlooked OS X tool
 defaults write com.apple.dock persistent-others -array-add '{ "tile-data" = { "list-type" = 1; }; "tile-type" = "recents-tile"; }' ; killall Dock 
After you press return, a new stack will appear in your Dock. It will show recently used applications by default. Control-click on it to change what it displays, for example, Recent Applications, Documents, or Servers.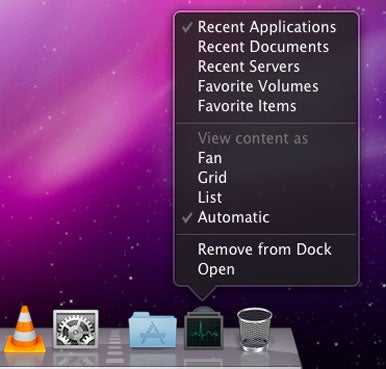 With the Recent Items stack, you can display—and quickly access—the documents, applications or servers you've used recently.
You'll also see two more items in this menu—Favorite Items and Volumes. Favorite Items are the folders found in the Places section of your Finder sidebar. (Select any folder and press Command-T to add it to the Finder sidebar; hold down the Command key and drag it from the sidebar to remove it.) Favorite network volumes are the ones you've added as favorites in the Finder's Go -> Connect To Server dialog box.
As a bonus, you can run the above Terminal command again, and get another Recent Items stack (or folder). That way you can set up multiple groups of recent items to access as you wish.
With these tips you can turn your Dock into a powerful organizational tool, presenting much more than just the handful of applications you use regularly.
Previous Page 1 2 3