iOS 5: What you need to know
We answer your questions about Apple's upcoming iOS update
How configurable are the new notifications?
Very. Again, we refer you back to our first look linked earlier, but trust that you get plenty of control. You configure how notifications are sorted, you control which apps can and can't send you notifications, and you can even—on an app-by-app basis—switch from the new banners to the original pop-up alerts instead. That way, if you'd prefer text messages interrupt you but Words With Friends alerts use the new approach, you can set things up just that way.
Can I keep notifications off my lock screen?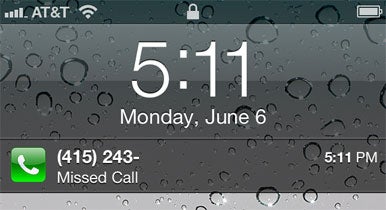 Every notification that arrives while your device is locked will show up on your lock screen in iOS 5, though you can turn off lock screen display on an app-by-app basis.
Yes—but it's a manual process. You must manually turn lock screen display off on an app-by-app basis within the Settings app. Otherwise, every notification that arrives while your device is locked will appear on the lock screen when you display it—even if you use a passcode to lock your device.
PC Free
What does Apple mean by "PC Free," anyway?
Sadly, it's not an insane Mac promotional giveaway. Rather, Apple's referring to the fact that with iOS 5, you'll no longer need to tether your device to a Mac or PC during its initial setup, when syncing, or to grab software updates; you can handle all of those actions from the device itself. A new iTunes Sync section in the Settings app shows your device's current sync status. Apple says that you can only sync with iTunes wirelessly so long as your iOS device is currently charging. (Bonus iOS 5 sidenote: While you sync—even if you do so by plugging your device into your Mac—you can still use your iPhone or iPad during the process.)
But software updates are huge! I don't want to download a several gigabyte iOS update on my iPhone!
Fret not. Also new in iOS 5 is support for update deltas: Rather than download an entire new copy of the operating system, you'll download a (theoretically much smaller) update that contains only the changed bits.
Hmm. But I'll still need my Mac for some things, right?
Apple is happy to keep selling Macs, but the company's goal is that you really won't need to use yours to update anything on your iPhone or iPad. iOS 5 will allow you to take actions large and small alike that previous versions of iOS didn't support, from minutiae like creating or deleting calendars and mailboxes to heavier lifting like photo editing.
iMessage
Previous Page 1 2 3 4 5 6 Next Page