Presentation app improves on the iPad, struggles on smaller screens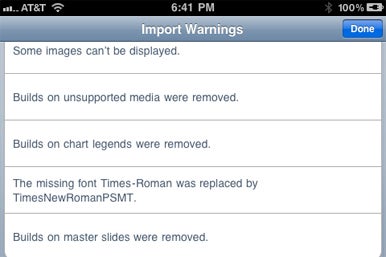 Matters of Import: Keynote warns you about unsupported features when you import a presentation created on the desktop.
If you import a presentation containing an unsupported effect or typeface, Keynote does its best to replace it with the nearest equivalent and displays a list of warnings. But, depending on the effect, the substitution may be barely acceptable or even ruin a masterwork. If you transfer the edited slideshow back to your Mac later, the substitutions remain intact. That's a serious problem if you use your iPhone to tweak presentations that you create on your Mac. As a workaround, you can export just the slides that you want to edit (once you've verified that they don't include any unsupported effects), but that's not practical.
Importing media into presentations is far less seamless than it should be as well, a consequence of the lack of an accessible file repository on the iPhone. Keynote only lets you grab images and movies from the iPhone's photo albums. Adding audio clips to slides is even more awkward. To insert sound on a slide, you have to first import a presentation that contains the audio file, then cut-and-paste it onto the slide. These limitations are especially surprising, since you can already copy entire slideshows from iTunes, iDisk, or a WebDAV server. Keynote ought to let you do the same with images, movies, and sound files.
I put Keynote through its paces on a two-year-old iPhone 3GS, which sports a slower processor and less memory than the iPhone 4. Despite the older hardware, Keynote's performance was usually adequate. The app occasionally struggled to keep up while editing complex slides with many builds, but it generally fared better than I expected.
In addition to iPhone compatibility, Keynote 1.4 brings two new features to iOS. Keynote now lets you organize presentations in folders by dragging them on top of each other, just like you can drag-and-drop apps on the iPhone or iPad. It also adds support for Apple's Keynote Remote app (available separately in the App Store for $1), which lets you control a slideshow on one iOS device from another one over a Wi-Fi or Bluetooth connection.
If you have an Apple Digital AV or VGA adapter, you can view Keynote presentations on compatible projectors, displays, or HDTVs. Unlike the original version, which only displayed small thumbnails and a slide counter, Keynote 1.4 includes an enhanced Presenter Display with an adjustable layout that lets you show the current and upcoming slides or the current frame and presenter notes. External display isn't supported on the iPhone 3GS or third-generation iPod touch, however.