Writing app packs a lot page layout power into your pocket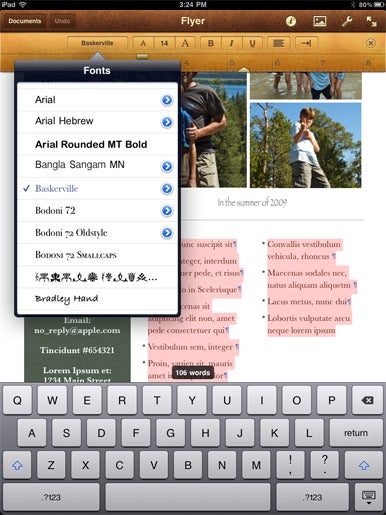 Tweak Your Text: The updated Pages on the iPad gives you easy access to more text formatting tools right from the toolbar.
Adding images, tables, graphs, and other objects to your documents on the smaller iOS devices is very easy, although I did find that pictures were super-sized when I first inserted them—so big, in fact, that they were a pain to resize. Tables, graphs, and shapes were handled in a much more graceful fashion.
Once inserted, all the objects offer a number of formatting options from drop shadows and frames to colors and embedded text. As your document grows in size you can drag your finger along the right-hand side of the page and a small magnifying glass appears displaying a thumbnail of your currently selected page and its page number. Dragging your finger up or down lets you quickly navigate to any page in your document.
While working with the app I created, shared, and opened documents using Pages on the iPad, iPhone, and my Mac. Formatting and images stayed in tact no matter where I was editing it. While the documents looked and worked the same, though, attempting to share the documents across all of these devices reveals Page's real achilles heel. Quite simply, getting your documents from where they are to where you want them is too difficult to be worthwhile.
While all the iWork for iOS apps have added support for WebDAV in addition to MobileMe and iTunes file sharing, there is still no support for true file syncing. No Dropbox support, no syncing with your DropDAV account or MobileMe—nothing but manual file sharing between every version of Pages that you're using. This, for me, makes an otherwise wonderful page layout and word processing application a complete non-starter. As I said in an earlier review of the mobile edition of Pages, it still feels like a boutique application that shows off the amazing capabilities of the iOS. Thankfully, Apple's fall release of iCloud will mitigate most, if not all of what's wrong with document sharing on iOS, but as of now Pages still remains impractical for real work.
Pages 1.4 is an amazing word processing and page layout application made more amazing when you realize that all of this power is packed into a device that can fit inside your pocket. While it needs true file syncing to make it truly great, as a standalone application for your favorite iOS device, Pages is a very impressive app.