With Sierra, Apple lets the Mac be the Mac
The rebranded macOS got a major addition in the form of Siri with Mac-specific features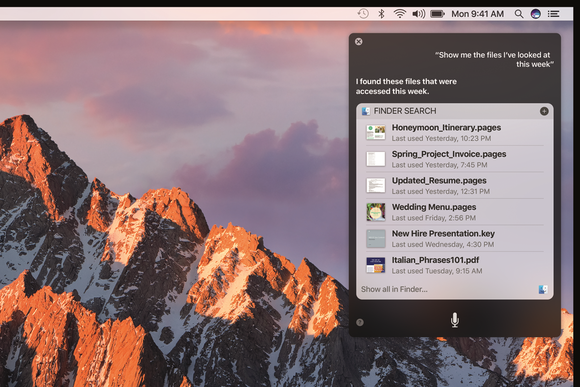 But as the demos continued, showing how you could store those files temporarily in Notification Center, then drag them into another app, it became clear that Apple was showing off features that simply don't exist - or, moreover, don't make sense - on the company's mobile platform. These are inherently Mac-specific features, in addition to all the same things you can ask Siri on the Mac about the weather, sports, web searches and so on.
Apple is also putting forth Siri on the Mac as a way to multitask more effectively: have it go out and accomplish tasks while you're still doing something else. That's fundamentally a different choice than on iOS, where Siri takes over the entire interface and consumes all of your attention. It's in the same vein of macOS handling multiple windows and many apps with aplomb. Despite recent improvements to multitasking on the iPad, the Mac remains unquestionably the champ in this department.
Besides Siri, most of Apple's major macOS-related announcements involve your Macs better communicating with other Apple devices: using your Apple Watch to automatically log in to your Mac, for example, or authenticating an Apple Pay transaction with your iPhone or Apple Watch, or even sharing clipboard information between your Macs and PCs. This isn't so much convergence as it is integration, admitting that all these devices serve different purposes in your life, and all of them are here to stay - so they may as well get along.
Opening up
As information from WWDC sessions leaks out, it's also becoming apparent that Apple has dialled back on some of its attempts to import iOS-like behaviours to the Mac. For one thing, the company announced that it would no longer mandate that apps must be in the Mac App Store in order to implement iCloud-related features. That's a big deal, because access to iCloud was one of the biggest carrots Apple had been using to entice Mac developers from traditional distribution models into its own store. Though Federighi and Apple's Phil Schiller demurred when questioned about the Mac App Store during a live interview with Daring Fireball's John Gruber, it's pretty apparent to even a casual user that the Mac App Store hasn't enjoyed its iOS counterpart's blockbuster success.
On the other hand, reports from the initial beta of macOS Sierra also suggest that Apple has eliminated Gatekeeper's 'run apps from any source' security setting, now strongly nudging developers towards either being registered with Apple or distributing through the store. (You can, however, still override the feature on an app-by-app basis.) But, notably, the company didn't simply lock the platform down to only Mac App Store programs, as many had feared may eventually come to pass.