WWDC: Lion revealed, will ship in July for $30
Apple engineers have been hard at work in the eight months since Apple CEO Steve Jobs first previewed Lion at last October's Back to the Mac event, and the next version of Mac OS X got a thirty-minute spotlight—led by Apple executives Phil Schiller and Craig Federighi—at Monday's Worldwide Developers Conference keynote.
Mac OS Lion will also offer developers an easy way to build full-screen support into their applications. You can send an application into fullscreen mode by clicking the fullscreen icon in the top right corner of the window; once there, you can return to the desktop (and your other open windows) by using a swipe gesture or by returning to windowed mode.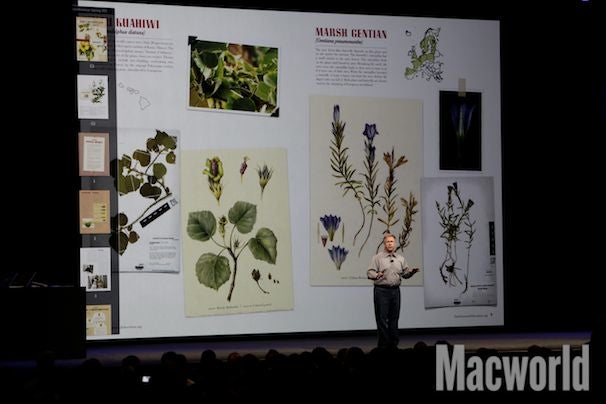 Apple has integrated fullscreen mode into many applications in Lion (15, according to one slide). Ones specifically mentioned in the keynote include Safari, Mail, iCal, Preview, Photo Booth, iPhoto, iMovie, iTunes, Aperture, Keynote, Pages, Numbers, and XCode.
As a demonstration, Federighi pulled up fullscreen versions of iPhoto, Safari, and Photo Booth. During the Photo Booth demonstration, the audience got a sneak peek at a few of the new effects coming to the program along with Lion, including the Dizzy filter, which will animate a flock of birds circling over your head, cartoon-style. Federighi also pinted out that this demo took advantage of new face-detection technology that follows your face around the screen.
Mission Control
Devised to enhance and replace Spaces, Exposé, and Dashboard, Mission Control gives you an overview of everything on your system: windows, applications, and Spaces workspaces. Activated by a multitouch swipe, Mission Control displays your current workspace and all its windows, grouped by application. You can get a Quick Look preview of an individual window by hovering over it and tapping Spacebar, or isolate an application's windows with a two finger swipe.
Spaces workspaces, previously managed within System Preferences, have taken root along the top of the Mission Control screen, and Dashboard has been converted from a hover overlay into its own workspace (positioned at the left end of the workspaces "bar"). You can drag applications and windows from desktop to desktop, and even add or delete desktops directly from Mission Control. Click on a desktop, and you'll be brought there; you can also switch using a multitouch gesture.
The Mac App Store
In addition to it being the sole way to download Lion upon the OS's July release, the Mac App Store—first introduced in Mac OS X 10.6.6—will feature prominently in Lion. In talking about the store, Schiller first spoke about the success of the store since its launch in January before moving on to some of the new store-related features coming in Lion. For example, developers will be able to add iOS-like in-app purchases, sandboxing (for heightened security), and push notifications to their apps. The Lion version of the store will also offer faster software updates, thanks to switching to "delta" updates, which download only changes to code rather than forcing customers to re-download the entire application every time it's updated.
LaunchPad
Previous Page 1 2 3 4 Next Page