You will upgrade to Windows 10: Inside Microsoft's strong-arm upgrade tactics
The carrots alone didn't lure 1 billion users, so Microsoft's breaking out the sticks.
On a Windows 8.1 PC. Mostly full screen pop-up. No clear "No thanks" button, just download Windows 10 now or later. pic.twitter.com/RRoaFMST9r

— Brad Chacos (@BradChacos) December 11, 2015

There isn't any "No thanks, I don't want to download Windows 10" option to click. The only way to refuse Microsoft's offer is to click the X in the upper-right corner of the (unprompted!) pop-up to shut it. And some people aren't even seeing the "Upgrade later" option.
They've taken away my right to choose, @BradChacos. Getting a real "pray I don't alter it any further" bad feeling. pic.twitter.com/W49BqFsIou

— Hayden Dingman (@haydencd) December 15, 2015
This reeks of malware—but it's not. And it's only going to accelerate later this year, when Microsoft pushes Windows 10 through as a Recommended update in Windows Update.
An offer you can't refuse
Microsoft plans to push through the initial Windows 10 installation as a Recommended update sometime in 2016. That means Windows 10 will automatically download itself onto any computer that has Windows Update configured to install Recommended updates by default—in other words, the overwhelming majority of consumer PCs in the wild. That's the default setting for new Windows installs, and the one that most tech experts (ourselves included) recommend that everyday people use.
That's just as aggressive as restricting new processors to Windows 10—perhaps even more so. Users hollered last year when a snafu on Microsoft's back end caused some PCs to install the Windows 10 upgrade automatically. And that was after Microsoft slipped 6GB of initial Windows 10 installation files onto the PCs of Windows 7 and 8 users, forcing one PCWorld reader to burn through most of her monthly data plan in mere days.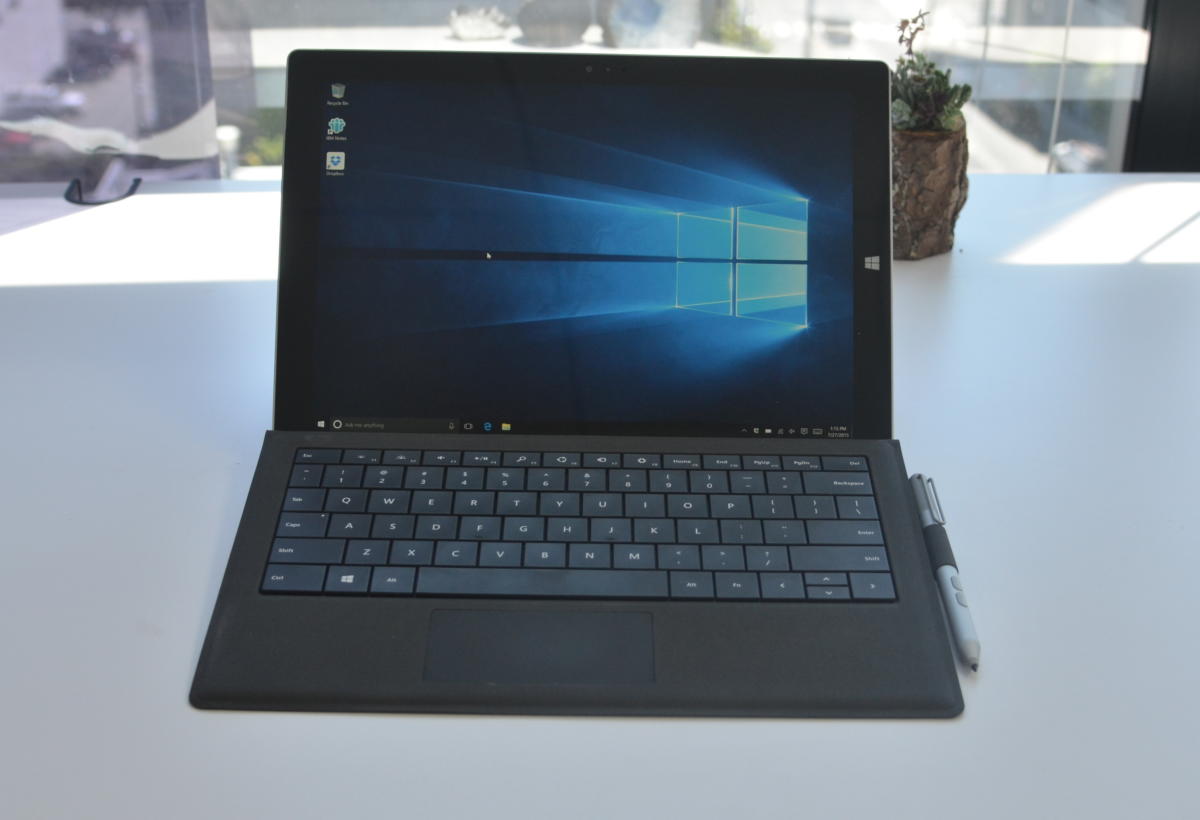 A Surface Pro 3 running Windows 10. Credit: Blair Hanley Frank
Fortunately, when Microsoft flips the switch and pushes Windows 10 through as a Recommended update, Windows 8.1 PCs won't automatically download updates over a metered connection. But Windows 7 users will have to turn off automatic downloads for all Recommended updates to avoid downloading multiple gigabytes' worth of operating system. And unless you're religious about manually installing critical updates, disabling Recommended updates will leave your computer vulnerable to some of the nastiest exploits floating around the web. Thanks, Microsoft.
The company says you'll be able to opt out of the upgrade even after Windows 10's installed to your PC, but smart money's betting the prompt will use the same weasel words as the GWX pop-up. Hey geeks: Look forward to receiving frantic late-night phone calls from your friends and family after they accidentally kick off the install process.