HP, SanDisk partner to bring storage-class memory to market
ReRAM has 1,000 times the endurance of NAND flash in SSDs.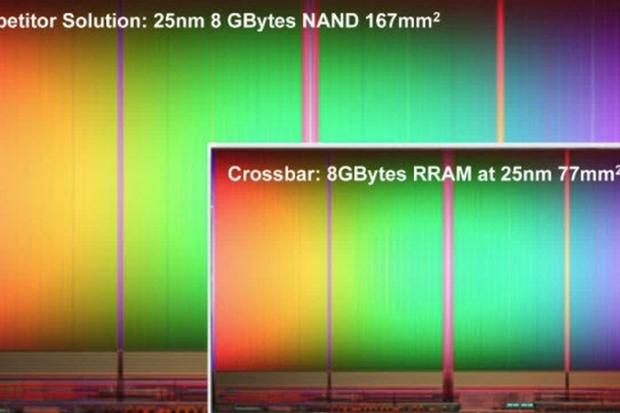 Resistive RAM wafers from Crossbar, a start-up that plans to ship products next year. ReRAM will be able to use silicon wafers that are half the size used by current NAND flash fabricators. In a single chip, it has nearly 10 times the capacity of NAND flash and uses 20 times less power to store a bit of data. Credit: Crossbar
Hewlett-Packard and SanDisk yesteday announced an agreement to jointly develop "Storage Class Memory" (SCM) that could replace DRAM and would be 1,000 times faster than NAND flash.
The two companies will market their SCM products for use in enterprise cloud infrastructures based on HP's memristor (a revolutionary form of resistor), which it has been developing for at least five years, and SanDisk's ReRAM memory technology.
The resulting non-volatile memory technology is expected to be up to 1,000 times faster while offering up to 1,000 times more endurance than flash storage, the companies said.

An artist's rendition of RrRAM memory. Tiny conductive filaments crisscross and connect silicon layers to represent a bit of data. Credit: Crossbar
It is also expected to offer significant cost, power, density and persistence improvements over DRAM technologies, according to Siva Sivaram, executive vice president of memory technology at SanDisk.
The SCM portfolio will eventually ship as enterprise SAS, SATA and PCIe-attached products that can be used to replace DRAM, and supplement NAND flash as a higher tier memory.
The SCM technology will be byte-addressable like DRAM, and its characteristics are intended to allow systems to employ tens of terabytes of SCM cache per server node for applications such as in-memory databases, real-time data analytics, and transactional and high-performance computing.
"This is a large marketplace," Sivaram said.
Memristor and ReRAM's long history
ReRAM, which is based on the memristor circuit, uses a passive two-terminal electrode that stores data using ions that change the electrical resistance, rather than electrons.
According to researchers from the Jülich Aachen Research Alliance (JARA), resistive memory can reduce the energy consumption of modern IT systems while increasing performance.
"In resistive switching memory cells (ReRAMs), ions behave on the nanometer scale in a similar manner to a battery. The cells have two electrodes, for example, made of silver and platinum, at which the ions dissolve and then precipitate again. This changes the electrical resistance, which can be exploited for data storage," JARA stated in a paper on ReRAM.
Resistive random-access memory (ReRAM or RRAM) is based on the "memory resistor" concept, also called memristor. The term memristor was coined by University of California, Berkeley, scientist Leon Chua in the early 1970s.