Mail Archiver X 4 review: Versatile Mac email utility is poky but indispensable
Put your old email messages into a searchable database.
Thankfully, Mail Archiver X can create multiple smaller archives to keep things efficient, although it should be noted Setup options are applied globally, rather than stored inside each database. This becomes tricky when using the built-in scheduling option to automate backup on a daily, weekly, monthly, or quarterly basis, or for archiving only mails that fall within a specific range, such as an entire year's worth of messages at a time.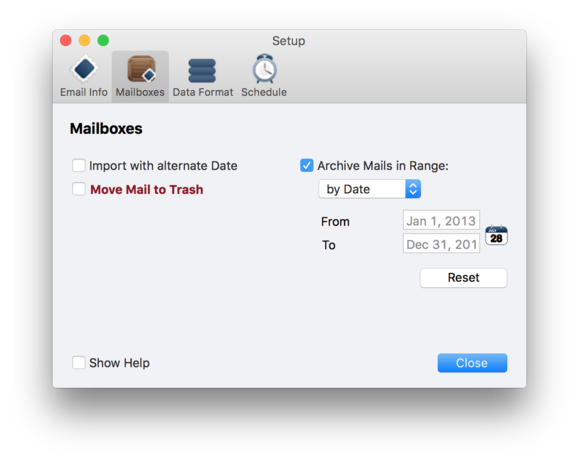 Only want to archive a year's worth of emails? Mail Archiver X can do just that, and a whole lot more.
Mail Archiver X is also intelligent enough to skip emails that have been previously archived, but it's not a true incremental backup. If the initial archive took hours to create, subsequent backups will take about the same amount of time. If you're backing up thousands of emails in one session, it's a slow process. I typically archive overnight or on weekends, when my MacBook Pro is otherwise idle.
Leisurely performance aside, Mail Archiver X is unique in its ability to archive messages in a way that retains the structure and formatting of the original client. I'd love a way to add standalone MBOX files to an archive without first importing them back into Apple Mail, but in my experience, the developer is lightning-quick at addressing support issues. The software also includes tools to diagnose, clone, or rebuild database problems that may arise.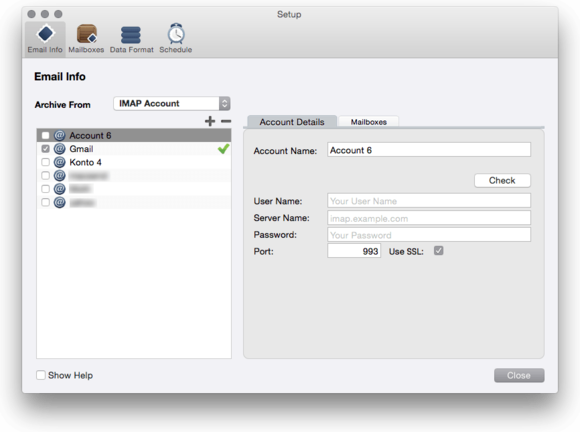 Mail Archiver X 4.0 allows multiple email clients and IMAP accounts to be archived in a single click.
Bottom line
Support for multiple mail clients and IMAP accounts make Mail Archiver X 4.0 a worthwhile update and a good investment for heavy emailers looking to keep their clients lean. It's not the fastest utility around, but it's definitely one of the most robust.
IDG Insider