Boxes 2 review: Organizer iPhone app is like a Facebook for pack rats
Boxes 2 is a cloud-based service for organizing, discovering, buying, and/or selling collectibles, memorabilia, art, electronics, and more.
Come together
What makes Boxes unique from other cloud depositories like Evernote is the social component: Users can like, comment, or add items to personal wish lists—it's kind of like Facebook for pack rats. I was initially skeptical about this aspect of the app, but soon found myself engaging with other users over shared interests. (Listings can also be posted to Facebook, Twitter, or Instagram as they're added, should you prefer.)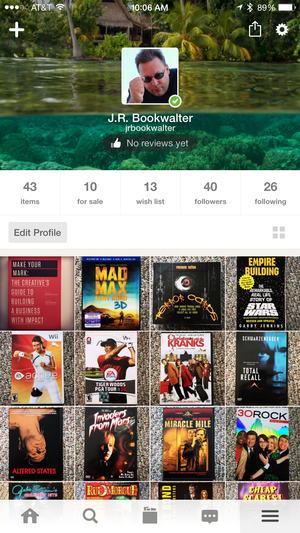 In the app or on the web, your Boxes profile shows all of your items and statistics at a glance.
Boxes also happens to be a capable eBay alternative: At any time, you can toggle a switch to start selling individual items from the app, or securely make purchases from others with the built-in safety of a buyer guarantee. I didn't wind up making any sales during testing, but purchasing requires little more than a credit or debit card; the developers will soon introduce new payment options including Apple Pay and PayPal.
I had enough fun with Boxes that I found myself wanting to post more stuff each day, both to get organized and share with others. Users can also log into a web portal to view their accounts or leave comments, but sadly there's currently no way to edit listings or add further details from the desktop.
Aside from the app being a bit sluggish at times, I was disappointed to discover there's no way to crop photos after they're taken, nor is Boxes a universal build with native iPad support. Otherwise, Boxes is a very capable app with a safe, inviting atmosphere for both collectors and budding entrepreneurs.
Bottom line
Boxes 2 is a great way to get organized, engage with others who share similar passions, and maybe even make a few bucks in the process.