Companies, start your (hybrid) clouds: Azure Stack's first beta is coming
Meet Microsoft's latest attempt to bridge the on-prem and public worlds.
Microsoft is releasing the first technical preview of its Azure Stack private cloud platform on Friday, which will allow customers to bring capabilities from the Azure public cloud into their own data centers.
Microsoft announced Azure Stack last spring at its Ignite conference, but it didn't offer many details about how the system would work. With this first technical preview, IT professionals and developers with powerful enough hardware will be able to spin up an Azure Stack instance and give it a shot themselves before Microsoft makes it generally available later this year.
Azure Stack is an attempt to bring the utility of Microsoft Azure to customers' data centers and expand its reach to regions of the globe that Microsoft's cloud service hasn't yet touched. Companies will be able to install it on compatible hardware and then use that to run a private instance of Microsoft Azure, using some of the same tools they're used to working with in the public cloud.
People who are at ease with Microsoft's public cloud tools will feel right at home with the Azure Stack management portal, which is essentially the same one they'll find in the public cloud. The same thing goes for the services included in this first technical preview, including the ability to spin up virtual machines and build websites using a beta version of one part of Azure App Service. Azure developers and administrators who are used to working with tools like PowerShell, Visual Studio and Microsoft's Azure command line tools for Linux and Mac OS X will be able to use them to work with an Azure Stack setup as well.
That said, the technical preview only offers a small subset of the services Microsoft makes available to its public cloud customers, and Azure Stack won't have the full suite of Azure public services available when it launches later this year.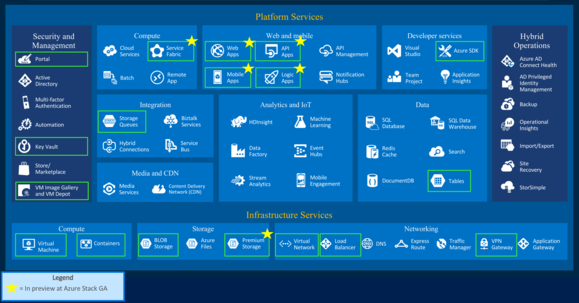 Microsoft A chart showing which public cloud Azure Services will also be available through Azure Stack when it launches later this year.
That's partially by design. Some of the public services like Azure Machine Learning or Azure Data Lake make the most sense in the public cloud, where users can take advantage of the scale and power of Microsoft's data centers, and will likely stay there, though the company may bring them to Azure Stack sometime in the future. It also makes sense for Microsoft to hold onto some of its most powerful services for itself, so the company's public cloud offering is still the most appealing one for people who want a full-featured Azure experience.
In addition to enterprises, Azure Stack is targeted at service providers, and will allow them to offer Azure services to their own customers. That functionality is aimed at providers that don't have an Azure region operating nearby, and those companies that want to provide some sort of premium cloud services that Microsoft can't already offer.