Microsoft OneDrive adds super-intelligent searching of document text
better find the ones you're looking for. It also adds an attractive Albums feature for photo management, and camera backup for your DSLR, too.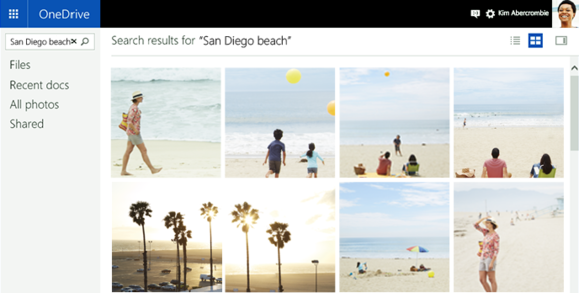 Microsoft just made it easier to upload more photos and files to its OneDrive cloud service. But, perhaps more importantly, it's also now easier to find these uploads again.
Specifically, OneDrive now intelligently "reads" your documents and photos--and even parses photos of text you've snapped--allowing you to search for text strings hidden inside both Word files and images. It's just one of several new tools, along with a new Albums feature, that Microsoft added to its OneDrive Web app and iPad apps on Wednesday morning.
In a blog post, Douglas Pierce, the group program manager of Microsoft's OneDrive, explained that Microsoft is now applying techniques used within Microsoft Research and Bing to examine, analyze and tag your photos.
"Our users will have access to automatically grouped collections of photos and they can easily search for specific ones," Pierce wrote. "You'll be able to quickly find things such as 'people,' 'dogs,' 'whiteboard,' 'beach,' 'sunsets,' and dozens of other terms. This makes it even easier to add your photos in to presentations for school, to relive a specific memory, or to share something important with all of your friends on Facebook."
Why this matters: Microsoft apparently hasn't turned on the new search feature within my Microsoft account, so we'll have to wait for a hands-on with the tool. But I suspect that the fundamental technology at the heart of the update may provoke some interesting questions: Will OneDrive be able to find all of my photos taken on my Hawaii vacation, or just the ones it identifies as on the beach? Is facial recognition part of the technology? And can Microsoft's automated search be turned off? If so, should it?
Find old photos faster
The number of ways Microsoft is assessing your documents and photos is actually pretty extensive. Microsoft will put your files through a virtual optical-character-recognition (OCR) scanner to extract relevant, searchable information. You'll still be able to tag your photos and files, but now Microsoft will begin creating and applying tags as well (a Tags view will let you see what Microsoft sees). In part, the new feature uses the automated image recognition technology Microsoft began talking about last year.
Given that what we store online--email, calendar information, our locations, etc.--is now consistently being mined by Google, Microsoft and others to help us organize our lives, many users won't have a problem with Microsoft sinking such deep hooks into cloud documents. That said, Microsoft told PCWorld that users will be able to opt out of some of the new features.
"We offer the ability to turn off tagging and 'OCR' for photos," a spokesperson said in an email. "We have many customers who have asked us to provide 'full text search' for documents just as we do on Windows today. Currently, we do not have a feature for turning off this improved search experience, but it is something we can consider in the future if there is customer demand."