Why Microsoft will beat Google in the enterprise cloud war
Google beat Microsoft to market with its cloud-based suite of business apps, but the tables have turned and many organizations, particularly large enterprises, are now looking to Microsoft for their cloud needs.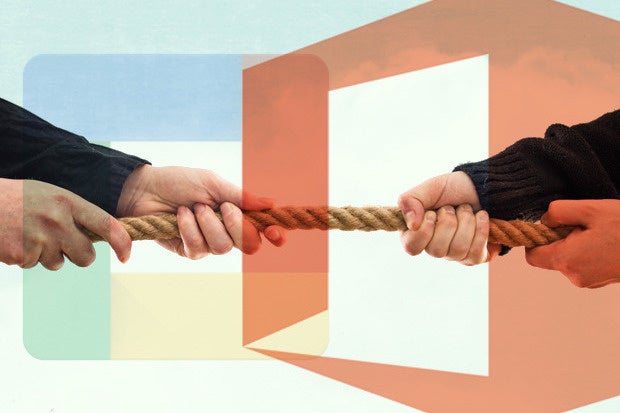 As Google and Microsoft battle for enterprise cloud customers, each company's natural strengths (and weaknesses) become more apparent. Microsoft, for example, is winning over large enterprises that already have massive workforces on Office 365. Google for Work, meanwhile, continues to be popular among small-to-midsize businesses (SMBs), particularly organizations that don't have dedicated IT staffs and aren't burdened by legacy technologies that require ongoing support.
The pendulum started to slowly swing back in Microsoft's favor after it released Office 365 in 2013 and finally embraced the cloud, according to TJ Keitt, a senior analyst with Forrester Research. It is difficult to accurately compare the two companies' user numbers because neither Microsoft nor Google provide details on user bases, or the sizes of the companies they serve, but Keitt suggests Microsoft is on the winning end of the recent shift.
"There is momentum associated with Microsoft Office 365," he says. "And that was probably always going to be the case, because there are some fundamental differences between Google Apps for Work and Office 365."
Microsoft Office 365 gives IT more options and controls
It's easier to get started with Google's tools, for example, but Microsoft provides greater flexibility and support for critical IT deployment needs, according to Keitt. Office 365 customers have more options when it comes to licensing for apps and data that will be hosted by Microsoft partners; access to the platform in a shared environment; and using dedicated Office 365 environments. "Google doesn't provide that deployment flexibility," Keitt says, and adds that Google for Work only supports multi-tenancy deployments.
Vanessa Thompson, research vice president at IDC (CIO.com and IDC are both owned by IDG Communications), says both platforms are gaining momentum. "As the level of comfort for cloud-based solutions in general increases, there will be uplift across both solutions."
Office 365 offers many more IT-specific plans than the two options available in Google for Work, Thompson says. "It is all up to customer choice. Some companies might be happier to mix and match functionality and licenses, and would go with Microsoft, but others are looking for a more straightforward transaction and would go with Google for Work."
Microsoft provides a pathway for businesses with SharePoint deployments, for example, to continue using those services while moving other elements of their Microsoft portfolios to the cloud, Keitt says. Conversely, Google presents some "stumbling blocks for companies that aren't interested in ripping or replacing what they were using previously," he says.
Microsoft well suited for use by big biz
These "different on-ramps" for large companies that already use Microsoft products represent opportunities for the software giant, according to Keitt.