3DMark Time Spy tested: We pit Radeon vs. GeForce in this major new DX12 benchmark
Finally, a test that measures GPU performance with next-gen graphics.
When it comes to benchmarking software, Futuremark's 3DMark Fire Strike is the gold standard among PC enthusiasts. But there are limits to what Fire Strike can measure; as a DirectX 11 implementation, the tool can't quantify how graphics cards perform with Microsoft's cutting-edge DirectX 12 graphics technology. That's a problem as more and more DX12 games hit the streets.
Or rather, it was a problem.
Today, Futuremark released its new Time Spy benchmark for the 3DMark suite, which is loaded with DirectX 12 features to put graphics cards to the next-gen test.
Time Spy isn't Futuremark's first DirectX 12 benchmark; that honor goes to the API Overhead Feature Test released in March 2015. But the Overhead Feature Test merely measured draw call performance in DirectX 11 versus DirectX 12 (or the now-defunct Mantle). Time Spy is a full-blown benchmark composed of several subtests that factor into an overall combined score. It's the DX12 equivalent of Fire Strike, basically.
And it lets you test with asynchronous compute both enabled and disabled, which leads to some interesting insights. More on those in a bit.
Better yet: Time Spy's coming to all versions of 3DMark, including the Basic Edition that's free for personal, noncommercial use. (You can download it on Futuremark's site or by clicking the Download demo button on 3DMark's Steam page.) Time to start your engines, folks—at least if you have Windows 10.
The paid-for Advanced Edition of 3DMark (which offers additional features and benchmarks) is rising in price from $25 to $30 thanks to Time Spy's inclusion, however. If you already own 3DMark Advanced Edition, you can purchase Time Spy separately for $10. But if you buy before July 23 you'll be able to upgrade for $5 or buy the complete Advanced Edition for $10.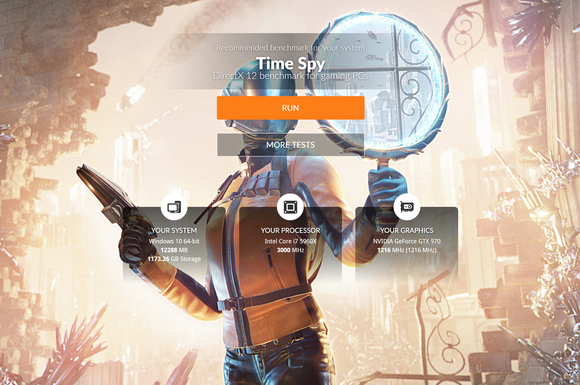 Futuremark provided PCWorld early access to Time Spy to see how it handles. Let's take a deeper look at this new DirectX 12 benchmark, and the performance results for a range of AMD and Nvidia cards.
Meet Time Spy
Futuremark developed Time Spy with input from AMD, Intel, Nvidia, and Microsoft, with an eye towards testing DirectX 12's unique advantages. By giving developers lower-level access to hardware, DX12 offers reduced processor overhead, better multi-threading support, and the ability to get "closer to the metal" of graphics cards.
To drive home how much more DirectX 12 can process compared to DirectX 11, Futuremark provided a chart showing the average amount of processing per frame in Fire Strike versus Time Spy.