3DMark Time Spy tested: We pit Radeon vs. GeForce in this major new DX12 benchmark
Finally, a test that measures GPU performance with next-gen graphics.
Beyond merely being built in DirectX 12, Time Spy also supports many of DirectX 12's highlight features. That includes asynchronous compute, which allows compute and graphics rendering tasks to run simultaneously, rather than one after the other; explicit multi-adapter in the linked-node configuration, which essentially performs similarly to SLI or CrossFire, but allows the benchmark to pool the resources of the two graphics cards; "explicit synchronization between CPU, GPU, multiple GPUs, and multiple GPU queues;" and several other under-the-hood tricks like resource binding and data "heaps," all running in a custom engine.
Time Spy's actually broken up into a trio of tests running at 2560x1440 resolution in the official benchmark configuration. It starts off with two graphics-focused tests that stress your GPU in differing ways while minimizing the CPU load, to get as much of a pure GPU result as possible.
The first graphics test (pictured above) stars the titular time spy wandering through a museum that features artifacts and weapons from throughout time and space, complete with easter-egg-style nods to other 3DMark benchmarks and games like Halo, Far Cry, and Deus Ex. This first test "focuses more on rendering of transparent elements," according to Futuremark.
The second graphics test pans and zooms throughout the same museum, showing different areas illuminated by different light sources than the first test. It "focuses more on ray-marched volume illumination with hundreds of shadowed and unshadowed spot lights." The two graphics tests each receive separate scores, which are combined into an overall graphics score.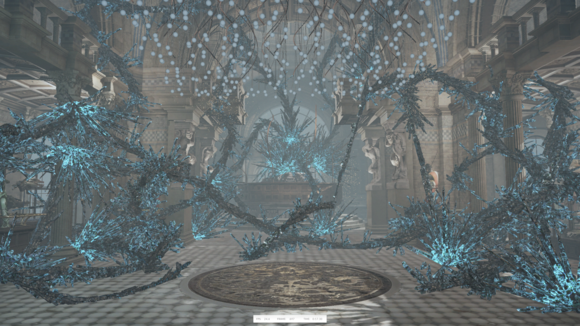 Then a third test hammers your CPU—the fans on our test system's closed-looped cooler screamed during this section—while minimizing the GPU load. It features ice-like crystal clusters spreading throughout the screen using procedural generation, constantly transforming and growing. "The CPU test measures performance using a demanding combination of physics simulation, occlusion culling, and procedural generation," Futuremark says.
Once everything's done running, the CPU score and GPU score are combined to generate an overall score using a "weighted harmonic mean."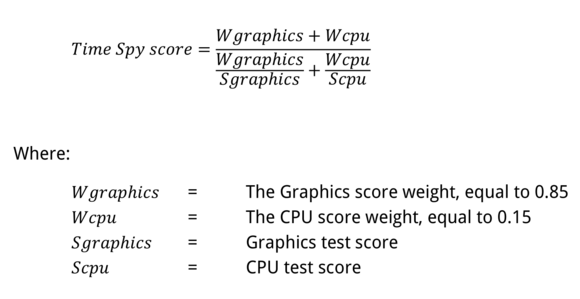 So what does "weighted harmonic mean," well, mean? Here's how Futuremark describes it:
"For a balanced system, the weights reflect the ratio of the effects of GPU and CPU performance on the overall score. Balanced in this sense means the Graphics and CPU test scores are roughly the same magnitude.

Previous Page 1 2 3 4 Next Page