Digital Storm Aventum 3 review: This big, bad desktop celebrates high-end gaming
This rig doesn't just pack state-of-the-art hardware—it displays its components beautifully, too.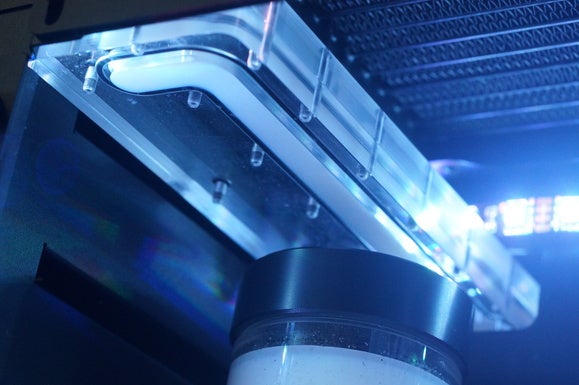 Could Digital Storm have just used a flexible hose or hard tube here, instead of a solid piece of plastic with channels cut into it? Sure, but then it wouldn't look this cool. Credit: Gordon Mah Ung
The back of the case also features a massive plastic water block that seems unnecessary for cooling but still looks neat. Speaking of overkill, no fewer than three radiators have been installed in the Aventum 3. You don't need that many for this amount of hardware, but that doesn't diminish their contribution to this rig's badass vibe.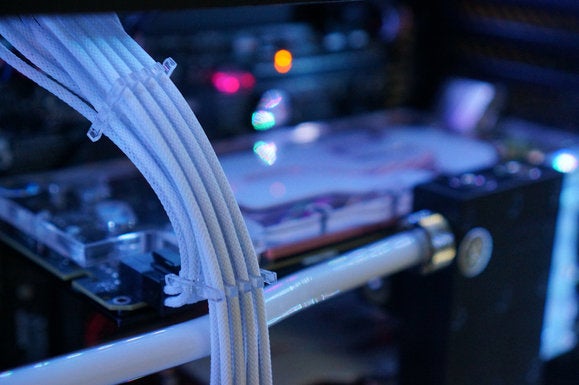 The braided power supply cables feature combs to keep the wires nice and tidy. Credit: Gordon Mah Ung
Made in the USA
The real star of the Aventum 3's presentation may be the case itself. Most boutique PC vendors use an off-the-shelf chassis that they mod or paint in some distinct fashion. Or they go to a case manufacturer and ask for a small production run of an existing design with a customized facade. For the Aventum 3, Digital Storm took the fairly unique approach of first designing the case in-house, and then having it built right here in the US of A. That's right: Team America, f* yeah!
Even putting aside the design and manufacturing of the case, and the sweet paint job I mentioned earlier, its enormous size is noteworthy. The Aventum 3's case is 28.5-inches tall, about 25.5-inches deep, and 10-inches wide. A typical desktop tower might be 20-inches tall. You know you have a serious PC when you have to throw an unboxing party just so you and two friends can get it out of the packaging safely.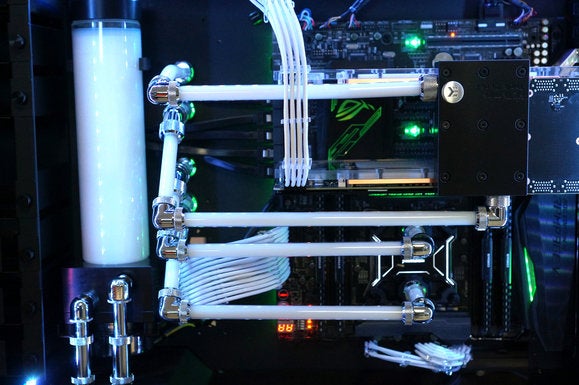 PC fashion tip: Flexible tubing is out and hardline tubing is in. Credit: Gordon Mah Ung
The Aventum 3's case features some interesting touches, too. Digital Storm designed it with pass-through for the custom liquid-cooling system using quick connect systems. The company also routes power from the Corsair AX1500i PSU through the case—you just plug the cables into the chassis and into your hardware. It eliminates cables snaking everywhere, and gives the system a sleek look.
The upshot is that if you want the Aventum 3's chassis for your next PC, you have to buy the complete system from Digital Storm. For the person who wants something few others have, that alone may be worth the price of admission.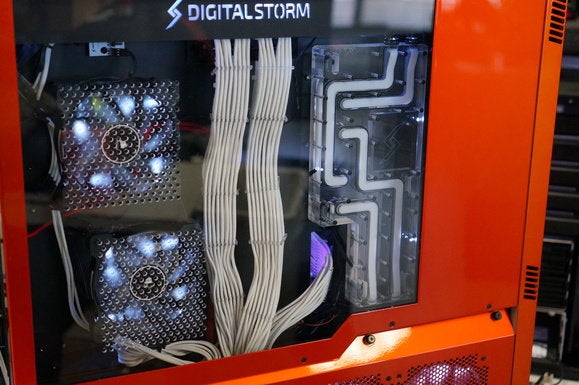 The back side of the Aventum 3 features a window and a nifty plastic block to route the liquid. The wiring is clean, but I have seen better. Credit: Gordon Mah Ung
Previous Page 1 2 3 4 5 Next Page