Digital Storm Aventum 3 review: This big, bad desktop celebrates high-end gaming
This rig doesn't just pack state-of-the-art hardware—it displays its components beautifully, too.
Handbrake performance
Enough about looks—let's get down to how this machine actually runs. For our first benchmark, we used the popular free encoder Handbrake to convert a 30GB 1080p MKV file using the Android Tablet preset. This program generally loves CPU cores, but it doesn't scale quite as well with the 10-core Core i7-6950X. The Broadwell-E CPU has so much excess capacity that you can run Handbrake alongside another multithreaded application (or two) without issue. That said, it easily wins against other processors. The quad-core Haswell in our reference system looks pretty moldy in comparison.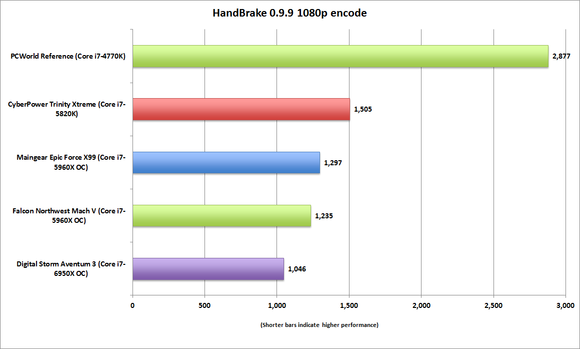 The Aventum 3's 10 cores take the top spot, but the 8-core chips in the Falcon and Maingear systems aren't that far behind. (Click for larger image).
CineBench R15 performance
CineBench R15 is a CPU benchmark based on Maxon's Cinema4D 3D rendering engine. Here we see the i7-6950X take a nice lead over the 8-core chips in the Maingear and Falcon Northwest boxes. All three rigs were running overclocked. I also threw in a quad-core Skylake Core i7-6700K for comparison.
3DMark FireStrike Ultra performance
Enough about the 10-core Broadwell-E. A big tower with multiple GPUs is very much about gaming and graphics performance. The clash between the Aventum 3 and other mighty gaming rigs is about as epic as you can get: The Falcon Northwest Mach V features three GeForce Titan X cards in tri-SLI, while the Maingear Epic Force X99 does the Mach V one better with four GeForce Titan X cards in quad-SLI.
These are the two systems to beat for the Aventum 3's pair of GeForce GTX 1080 cards. But for further comparison, I also threw in the Origin Chronos with a single GeForce GTX Titan X, and our PCWorld reference system with its lowly GeForce GTX 980 card.
Looking at the numbers, the obvious winner is the Maingear Epic Force X99 with its four Titan X cards. The Falcon's three Titan X cards come in second place, and note the limited scaling you get by moving from three to four Titan X cards.
Even with a third-place finish, the dual GeForce GTX 1080 doesn't do badly. It's not that far behind a three-way Titan X setup.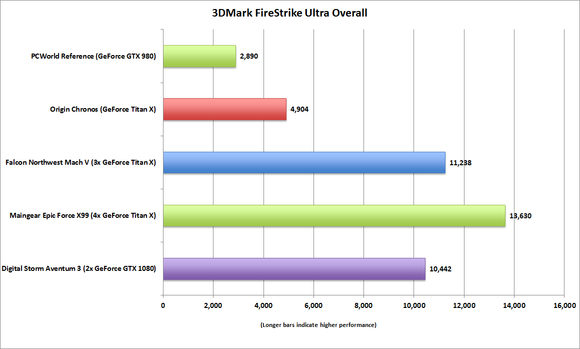 3DMark FireStrike Ultra shows the competitive race between the Aventum 3's two 1080 cards and the Mach V's three-way Titan X setup. (Click for larger image).
Previous Page 1 2 3 4 5 Next Page