Is the Chromecast a viable Apple TV alternative for iPhone users?
Apple continues to stress the belief that apps are the future of television, and maybe they're right: the Apple TV's selection of apps and games is ever expanding, and you can tap into a wide array of streaming services and traditional network apps with ease.
With the Chromecast, there is no remote: your iPhone or Android phone serves that role. An official Google Cast app is available as a guide to point you towards other compatible apps, otherwise you can cast directly from the apps. Once paired with the Chromecast device, you can simply tap the icon - which looks like a TV screen with a Wi-Fi indicator in the lower left - within the app to send video, audio or gameplay to your television.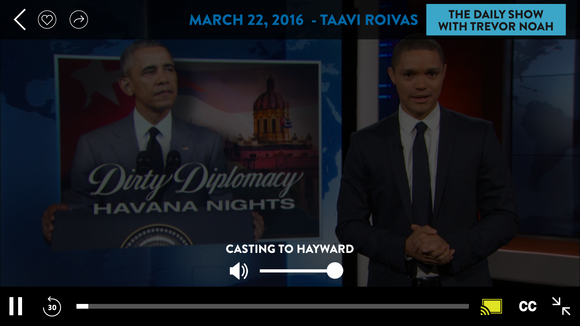 It's pretty easy to use once you're acquainted with the process, but it's a lot easier to hand the Siri Remote to a babysitter or friend rather than make sure they're connected to the correct Wi-Fi network, have them download the right apps, and then figure out casting. Apple certainly has ease of use securely in the bag here.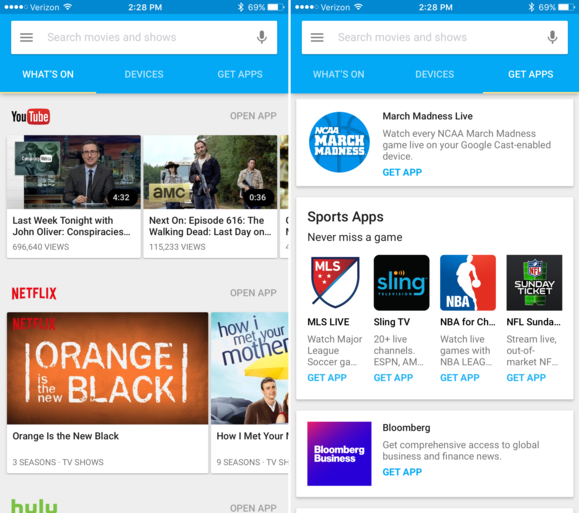 Shared offerings
(Editor's note: As this article originally comes from our US counterparts it lists many US services. However, local TV stations including Nine, Seven, the ABC, SBS and Ten all have their own Apple TV apps. And, as well as Netflix, Stan has an Apple TV app. Presto works over AirPlay from an iOS device)
If you're big on streaming media, take heart: Most of the major services work on Chromecast via their iPhone apps. We have a handy chart that compares the services found on all of the major streaming devices, including both of these as well as the Roku, Amazon's Fire TV, and Android TV, but here are the highlights.
Netflix, Hulu, and YouTube all work with Chromecast, as do HBO Go, HBO Now, Showtime, and Showtime Anywhere. Broadcast networks like ABC, CBS, and Fox have apps, while cable favourites like Comedy Central, Food Network, FX, Disney Channel, HGTV, Nickelodeon, and Travel Channel have compatible apps.
Live streaming TV services like Sling TV and PlayStation Vue are also available on Chromecast, making it easy for cord-cutters to still watch some channels without a huge cable or satellite bill. And you can use an app like Plex to pull media from your computer or a server onto your TV. Meanwhile, streaming music and radio services such as Spotify, Pandora, iHeartRadio and Google Play Music also have Chromecast functionality.
Sports fans, you can stream the last live March Madness games with the official app, with all the games airing on CBS available free while earlier games that ran on cable networks required subscription details. MLB.TV, NFL Sunday Ticket, NBA 2015-16, NHL, Major League Soccer, and WatchESPN all work on Chromecast as well. Oh, and parents: PBS Kids and YouTube Kids are both well accounted for.
Previous Page 1 2 3 4 Next Page