Is the Chromecast a viable Apple TV alternative for iPhone users?
Apple continues to stress the belief that apps are the future of television, and maybe they're right: the Apple TV's selection of apps and games is ever expanding, and you can tap into a wide array of streaming services and traditional network apps with ease.
While many of these apps feature a different kind of interface than the Apple TV version, since the menus and navigation are all handled on your phone, the end result is the same: streaming media of all sorts flung onto your TV.
What's missing
It's most of the other stuff that's totally missing on Chromecast, unfortunately. The platform isn't really built for interactivity, so the options for games and app experiences are limited - and a lot of the stuff you'd actually play is more passable than great.
While the Apple TV has hundreds and hundreds of games, many of which are excellent, the Chromecast has just a handful of decent options. Driver: Speedboat Paradise runs choppily, but could keep kids entertained in a pinch; same for the ever-reliable Angry Birds Friends. Ubisoft's Just Dance Now is fun, letting you match colourful dance moves while you hold your iPhone, although much of the content requires a purchase or subscription.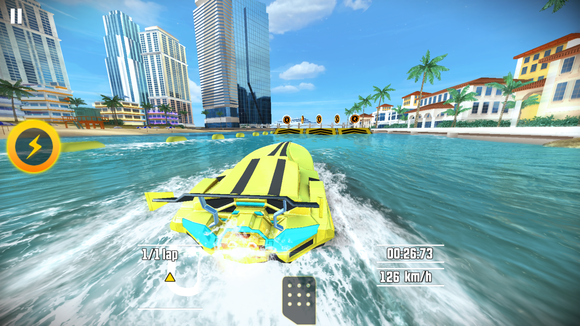 Hasbro has a few party games of varying quality, and Big Web Quiz is another fun party option, but that's roughly the whole slate. In other words, if you want a streaming box that can also double as a game console, the Chromecast doesn't have much to offer. Meanwhile, the Apple TV's selection is only improving, and you can grab a gamepad for an even better experience.
The Chromecast does have fitness video apps like Daily Burn and Fitnet, along with access to things like Google Slides and Bloomberg Business, but it's pretty clear that the Chromecast is built primary for streaming media and not a whole lot else.
Lastly, this may not be a surprise, but it could be easily overlooked: the Chromecast doesn't have any support for Apple's own media services. That means no access to Apple Music or your iTunes library, and no way to purchase or rent movies or TV shows through Apple. If you're deeply entrenched within the Apple ecosystem, that could be a crushing blow. It's part of the reason why the Apple TV is so darn appealing to iPhone and iPad owners.
The verdict
In short: if you want a device solely to toss streaming services like Netflix, YouTube and Spotify onto your television, the Chromecast may do the trick. It's super cheap, extremely portable and supports many of the top apps for TV, movies and music. Commanding the action from your iPhone isn't quite as intuitive as using a dedicated remote, but it's also not difficult to figure out or get comfortable with.
However, if you want the next level of set-top box entertainment, the scads and games and apps that work on your big screen with ease, then that's something the Chromecast can't hope to compete with the Apple TV on. It's what you're paying the extra money for: Access to interactive content, the processing power to run it all, and a unified interface and platform to enjoy it on. That's where the Apple TV excels in the market.
Previous Page 1 2 3 4 Next Page