Review: M3D's Micro 3D Printer fits in a backpack, quiet as a mouse
This adorable printer, which will just overlap the palm of your hand, is a reliable performer.
Some of the more typical objects I print to test machines had to be reduced in size using M3D's management software. It's a simple application that uses sliding scales on the X, Y, and Z axis's to increase or reduce an object's original size based on a percentage.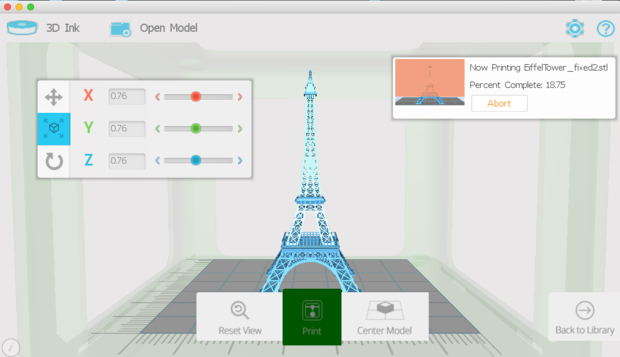 How the Eiffel Tower .stl file appeared on M3D's 3D management software. Note the ability on the left of the screen to scale up or down the X, Y and Z axis of the object. Credit: Lucas Mearian
A 5-in tall model of the Eiffel Tower I typically use to demonstrate how well 3D printers can handle intricate details had to be reduced in size by 28% to fit the Micro 3D Printer's height limit. Shrinking the tower made an already intricate print job even more of a challenge, but the machine did pull it off (although the tower wasn't anywhere close to the best models I've printed before).
I was impressed that the Micro 3D Printer captured most of the tower's details, however; the only exception was a pedestrian walkway railing on the second tier of the tower.
I also downloaded an expansion set for gears, which consisted of two pivoting gear arms and a cog. That tested the printer's ability to make multiple model parts that would fit together; it did an above-average job precisely printing the spiny-edged gear and jointed arms.
Keeping in mind this is a "micro" 3D printer, the print bed is two to three inches smaller than most consumer machines. But it's still big enough to print a great deal of one-off objects or many pieces for larger objects.
The Micro 3D Printer has good resolution, meaning the thickness of each layer of thermoplastic material it lays down is thin enough to create a relatively smooth surface; you will feel "ribbing," but model surfaces are not course.
Depending on how fast you want to complete your print job, the layer thickness can be adjusted from 50 to 350 microns -- .002 to .013-in.

The white octopus was printed on the Micro 3D printer. The yellow octopus was printed on the Lulzbot Mini 3D printer. It's easy to see that the Lulzbot did a more accurate job on the print with better resolution, but that printer also costs $1,350 while the Micro costs $349. Credit: Lucas Mearian
The M3D sells its thermoplastic print filament in 5-lb. spools of either polylactic acid (PLA) -- biodegradable thermoplastic -- or acrylonitrile butadiene styrene (ABS).
The printing filaments come in a two types: a standard PLA filament ($14 per spool) or a color changing PLA filament ($18) that M3D calls "Chameleon 3D Ink, which changes to a rich white color when exposed to specific temperatures ranging anywhere from a human touch to 140 degrees Fahrenheit.
Previous Page 1 2 3 4 Next Page