Sony has Bose and its Quiet Comfort noise-cancelling headphones in its sights
Coming soon from Sony: New wireless and wired headphones, an audiophile headphone amp, and a gold-plated Walkman featuring a chassis machined from solid copper.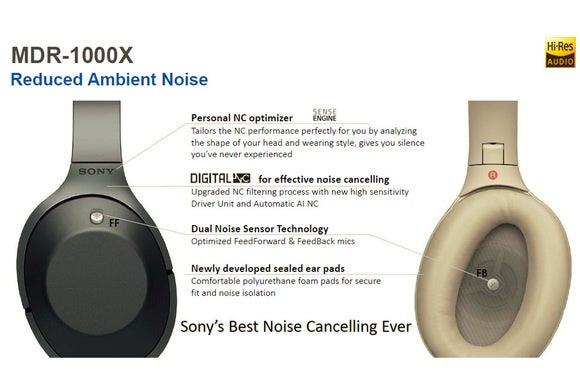 Sony says the dual microphones and onboard DSP enable its MDR-1000X to deliver best-in-class noise cancellation. (Note: Support for Hi-Res Audio requires a cable.)
Sony expects to fetch $400 for its MDR-1000X Bluetooth noise-cancelling headphones, which will be available in October. They are available for pre-order now.
Signature Series Walkman
Sony says it's celebrating its 70th anniversary by giving its engineers carte blanche to design and build a new series of high-end personal audio devices. They came up with two new Walkman digital audio players; an audiophile-class headphone amplifier with both balanced and unbalanced outputs; and a set of headphones with ear cups with a stainless steel weave and a headband made of lightweight titanium.
The NW-WM1Z Walkman ($3200) features a chassis machined from a block of solid copper and then gold plated. Sony says using copper reduces contact resistance (resistance is a measure of the difficulty of passing electricity through a conductor; contact resistance considers how much of that resistance can be attributed to electrical leads and connections. Yeah, it's pretty esoteric, but audiophiles will eat it up.) The gold plating—in addition to helping to justify the outrageous price tag—prevents the copper from oxidizing.
The $1200 price tag on Sony's NW-WM1A Walkman will be less likely to trigger a coronary, but it shares a number of features with its more-expensive sibling, including discrete analog and digital circuitry and support for quad-DSD (11.2MHz) music files and recordings with up to 32-bit resolution at sampling rates as high as 384kHz.
TA-ZH1ES headphone amplifier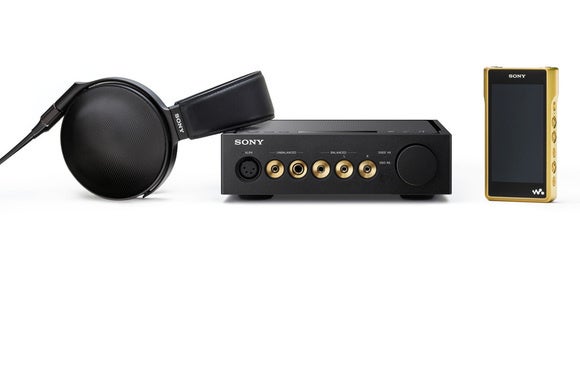 The TA-ZH1ES headphone amp (middle) features balanced XLR, unbalanced 1/8- and 1/4-inch, balanced 1/8-inch stereo, and balanced left and right 1/8-inch outputs. The new Walkman is on the right.
You can connect your headphones directly to the new Walkmans when you're on the road, but Sony has a new headphone amp you can use when you're in the comfort of your home listening room. The Signature Series TA-ZH1ES ($2200) features both a digital amplifier and an analog amplifier circuit. The amp supports most high-resolution audio formats, including native DSD and PCM recordings. Lower-resolution files can be up-sampled, and Sony's DSD Remastering Engine will convert PCM sources to DSD 11.2MHz.
MDR-Z1R headphones
Sony says it worked with one of its best mastering engineers at Sony Music Battery Studios to perfect the sound of its high-end MDR-Z1R headphones ($2300). The team only had a non-working prototype to show at the meeting, but I was surprised at how light the large cans felt on my head—especially considering that the exteriors of the ear cups are made from stainless steel mesh. Sony's product manager proudly pointed out that much of the weight savings comes from the headphone's titanium headband.