Tesla-SolarCity merger could be fraught with danger -- and big potential
Both companies have the same majority stock holder
However, selling rooftop solar from a Tesla retail store will not be easy, Prabhu said.
"They are still very different businesses and a slump in one business will be a drag on the whole company and become a distraction," Prabhu said. "The biggest pain point will be the debt that Tesla would take on. If this deal goes through, it would more than double Tesla's debt, which could scare investors away. In the end, it all comes down to the shareholders and they have not reacted to the deal positively so far."
Both Tesla and SolarCity are incurring massive amounts of debt because the companies are spending in order to expand in what are still fairly niche industries.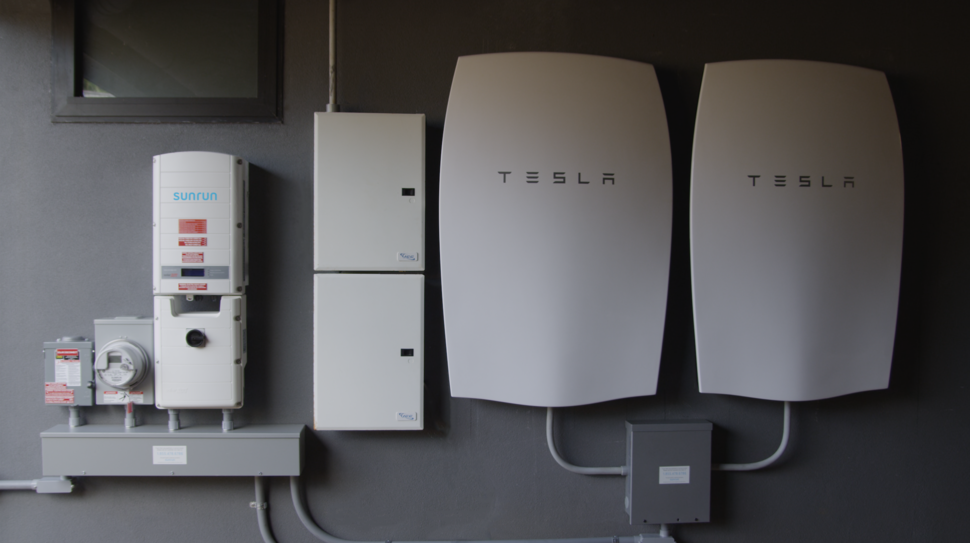 Sunrun
A Tesla Powerwall battery system as installed by Sunrun. The batteries can be installed inside or outside of a home.
While neither company is yet profitable (Musk has said Tesla will be profitable by 2020 when it's selling 500,000 cars a year), SolarCity has about $6.24 billion in liabilities, including its debt. According to Bloomberg, Tesla's debt has mushroomed 13-fold in the past three years to $3.25 billion.
"If Musk wasn't a majority shareholder in both the companies, there would be very little chance for a deal like this to go through," Prabhu said.
Tesla shares tumbled more than 10% after the all-electric carmaker announced the planned takeover. Conversely, SolarCity's stock, which has been steadily dropping over the past two years, experienced a modest uptick on the announcement.
SolarCity could hurt Tesla in light of the fact that neither company is yet profitable and SolarCity is struggling financially, said Tyler Ogden an analyst with Lux Research.
"I think it's far from being a done deal given the current state of both companies, neither making a profit and pretty clear expansion plans on the line," Ogden said.
SolarCity, Ogden said, has a different business model than Tesla and needs to take on more debt in order to fund the manufacturing and installation of solar systems that are mainly purchased by customers through leases or power purchase agreements (PPAs).
"Part of the business model is acquiring a lot of debt to fund its pipeline upfront," Ogden said.
Ogden also pointed to the recent bankruptcy filing by the world's largest solar energy developer, Sun Edison, as a cautionary tale. Sun Edison had assumed more than $12 billion in debt as it expanded and acquired other providers in the process.
SunEdison, a pioneering manufacturer of silicon wafers and the world's leading renewable energy developer, was once the fastest growing company in the renewable energy market.