What Silicon Valley doesn't say in its Trump attack
The innovation disaster execs warn of is already under way in the U.S.
The document isn't an endorsement of Hillary Clinton, the presumptive Democratic nominee, and doesn't even mention her. But Clinton's proposal to "staple" a green card on the diplomas of foreign students who graduate with advance degrees from U.S. schools is exactly the kind of policy the tech industry has lobbied for.
Clinton has released a tech agenda that calls for improved research funding, while Trump has yet to produce his plan. And even if Trump pens a tech policy to appease Silicon Valley, its condemnation of his immigration plan is total -- and immigration is at the heart of his campaign.
The Silicon Valley letter accuses Trump of holding "a fundamental belief that America is weak and in decline." This declinist belief, as it's called, has real roots apart from the U.S. retreat in science research funding.
In the 1990s, the U.S. abandoned its efforts to develop a super collider. Europe built the Large Hadron Collider near Geneva, making that region a center for physics research. Funding for NASA, an engine of innovation, as a percentage of the federal budget has been declining.
The U.S. had published plans about six years ago targeting 2018 as the rough time to build an exascale system, but the funding and support lagged. Meanwhile, China's push into this area is relentless and a high national priority.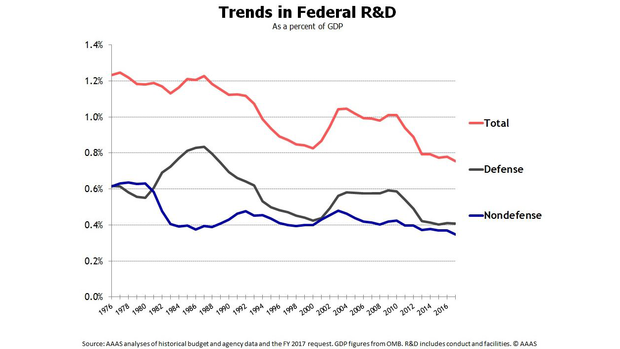 Trends in federal research and development spending over the past 40 years.