10 enthralling visions for the future of computing
Check out what's coming: Virtual and augmented reality, gesture and facial recognition, holograms and more.
Nevertheless, the reality of a full desktop powered by a smartphone is now closer than ever, thanks to Microsoft's work on a Windows 10 Mobile feature called Continuum. Continuum allows Windows 10 phones to display a Windows desktop-like experience when connected to an external monitor. You can also connect an external keyboard and mouse, or use the phone's display itself to control the "PC."

Credit: Canonical
Canonical has a similar concept, where an Ubuntu smartphone can display a full Linux desktop when docked. The concept was first introduced for the crowdfunded Ubuntu Edge smartphone, which raised more than $12 million. Though it fell short of its $32 million goal, the dream didn't die: Ubuntu phones that double as Linux PCs should roll out sooner than later.
Continuum, meanwhile, will show up on Windows 10 mobile devices later in 2015.
Wall computing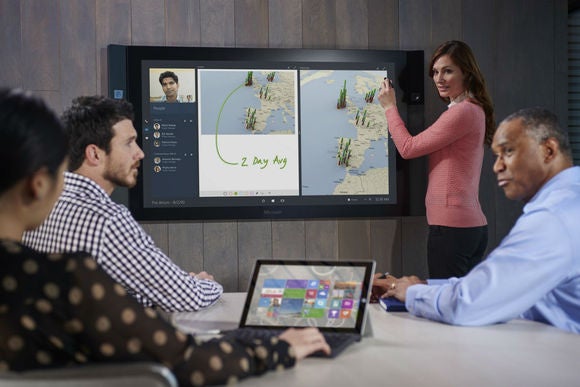 Microsoft's dream of a wall-sized computer is alive and well. It's not a new dream, however—the massive Perceptive Pixel display was something of a novelty that not many people besides Bill Gates ever used.
Nevertheless, Microsoft is trying again with the upcoming Surface Hub. This 84-inch, 4K business-focused touchscreen looks like an amazing device to play around with. It runs Windows 10 and can be used for pretty much anything you use a PC for today, including video conferencing and presentations. Microsoft's aim here is not just to make a big PC, but to digitize the whiteboard and take advantage of all the possibilities such a concept entails.
The Surface Hub will roll out in January 2016, four months after its original launch date of September 1, 2015.
Peering further into the future
Bendy tablets
I'm a sucker for those Microsoft concept videos that show where the company thinks the future of computing is going. Not so much because I think what they show will ever become a reality, but because it indicates how the company is thinking about the products it's working on now.
In 2011, Microsoft conceived of a modular card system that would replace your smartphone by 2019. The latest video, called Productivity Future Vision, still has the smartphone cards, and adds some other deeply enthralling concepts.
One of them is a tablet made of a mousepad-like material that you can bend and fold. It basically looks like a thick color e-ink touchscreen with no bezel.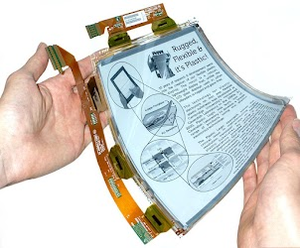 Plastic Logic's bendable e-ink screens.
The idea of a flexible display has actually been around for a while now. LG was talking up a bendable plastic for displays as early as 2010, and Samsung had a similar technology around the same time that made it into an actual product in 2013 called the Samsung Galaxy Round, though that phone's slight curve was far from being a truly flexible display.
Previous Page 1 2 3 4 Next Page