6 killer Mac features we'd love to see in Windows PCs
Even if you'd never lay a finger on a Mac, you have to admit these Apple-made features would rock on a Windows PC.
Sigh. For now, the future is pixelated.
3. Messages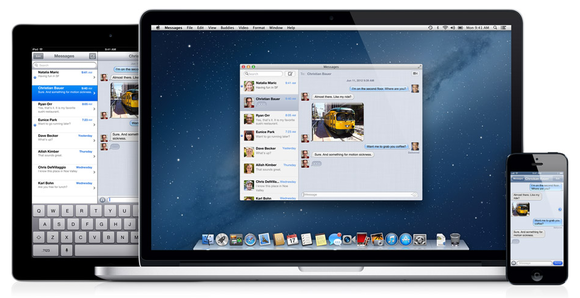 Of recent additions to OS X, one of the more handy is its Messages integration, which allows you to send texts to iPad, iPhone, and iPod touch users right from your desktop using Apple's homebrew messaging service. The carriers don't like it, but users love it--and it would be a great feature to find in Windows.
A baked-in Windows communications solution would cut down the myriad headaches associated with simply setting up a computer-to-computer conversation with your pals. Gone would be the days of wrangling accounts on AIM, GTalk, ICQ, Yahoo Messenger, straight-up SMS, or any other service your friends may or may not be using. Crucially, it would also serve to more deeply integrate Windows Phones and tablets into Microsoft's bourgeoning Windows family.
Microsoft already owns the backbone it needs to introduce just such a service in even better form: Skype. Skype-to-Skype calls and instant messages are completely free and work like a charm across a plethora of platforms, and you can already merge your Skype account with your Microsoft account. It wouldn't take much to preinstall Skype on Windows machines and bake access in with new Microsoft Accounts.
4. Notification Center
Yet another mobile invention that works wonderfully on the desktop, OS X's Notification Center gives you a list view of all your recent updates and notifications, making sure you never miss something important.
Windows 8 pops up a notification tile in the corner of the screen when new events occur, but it disappears within seconds, rendering it useless if you happen to be away from the computer at that exact time.
Live Tiles act as a lackluster pseudo-Notification Center, but to see the information, you have to take the initiative to jump back to the modern-style Start screen, and then stare at the shifty panels until you're certain that they don't include any more vital information. If you're away from the Start screen, no on-screen indicator other a disappearing notification tile (as mentioned above) warns you that you've missed an event--you just have to magically know to check your Live Tiles for an update.
Simply put, this cobbled-together system is far from ideal, and it's far less useful than OS X's Notification Center.
5. Universal power adapter design
Some people collect knick-knacks. I collect laptops. Not intentionally--it's just a side effect of writing about computers and computer-related things for a living. Sitting on the shelf next to me right now are several notebooks from Asus, HP, and Lenovo, and one thing about them makes me very angry.
None of their power adapters is interchangeable. I can't use my HP's adapter to power my Asus laptop, or do this with any other mix-and-match combination you can dream up.