7 things you can do to make Internet Explorer more secure
Still use Internet Explorer? There's no shame in that. But here are a few quick and easy steps you can take to stay safer as you browse.
From the Internet Options window, select the Security tab: you'll then see icons for each security zone, which you can click to change their security level. The Internet zone is set to Medium-high by default, Local Intranet is Medium-low, Trusted Sites is Medium, and Restricted Sites is High. In addition, the Internet and Restricted Sites zones both have Protected Mode enabled (which alerts you when webpages try to install or run programs).
I recommend that you use these default levels. If you change security levels for the various zones, you can always return them to their default settings by clicking Reset all zones to default level.
Use SmartScreen Filtering
In IE 8, Microsoft added the SmartScreen filter, which helps block dangerous websites and downloads. It's enabled by default (if you selected the recommended security settings when you first ran IE), but you should double-check to see if you still have SmartScreen Filtering turned on. Open IE, press the key, open the Tools menu, and select SmartScreen Filter. If you see Turn On SmartScreen Filter, click it.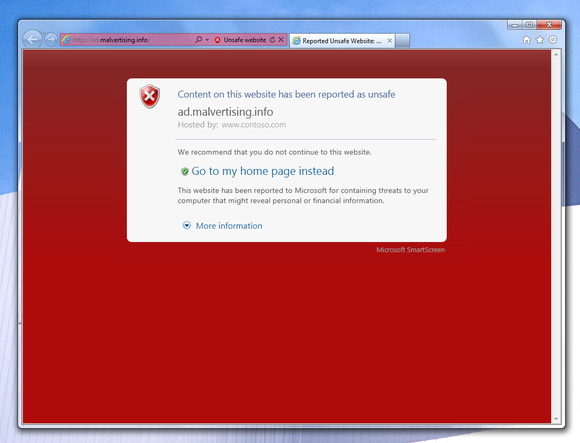 Now, if you visit a possible phishing or malware-infested site, or if you download a suspicious file, you'll get a warning message.
Enable ActiveX Filtering
The ActiveX filter in IE 9 and 10 blocks all ActiveX content on websites, but it allows you to run it selectively on sites you trust. Though some sites use ActiveX controls to display or run legitimate content (like animations, ads, Web-based programs, and download managers), some sites may try to run malicious ActiveX controls or content to infect your computer.
This is where ActiveX Filtering can help; however, this security feature is disabled by default. If you'd like the extra protection of this filtering feature, you can easily turn it on: Open IE, press the key, open the Tools menu, and click ActiveX Filtering if it isn't already checked.
Now when you visit a website with active content, you'll be alerted that some content has been filtered or blocked. If you trust the site, you can click Turn off ActiveX Filtering to allow the content on that particular website.
Set up tracking protection
Tracking Protection, a feature present in IE 9 and 10, helps protect your online privacy and reduces annoyances from third-party content like advertisements. Combined with Tracking Protection Lists, it can block third-party content from appearing and prevent third-party tracking from content providers on the list.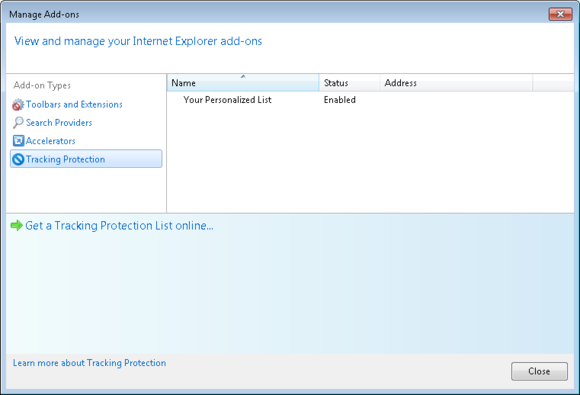 By default, Tracking Protection Lists are turned off. To enable and configure them, open IE, press the key, select the Tools menu, and click Tracking Protection. You should see the default list that's generated automatically based on sites you visit, and you may choose to download additional lists. To use a list, select it, and click the Enable button.