Accessibility improvements Apple should make in iOS 9
It's totally fine if iOS 9 doesn't pack in hundreds of new features. Steven Aquino just wants a handful of tweaks to make things more visible.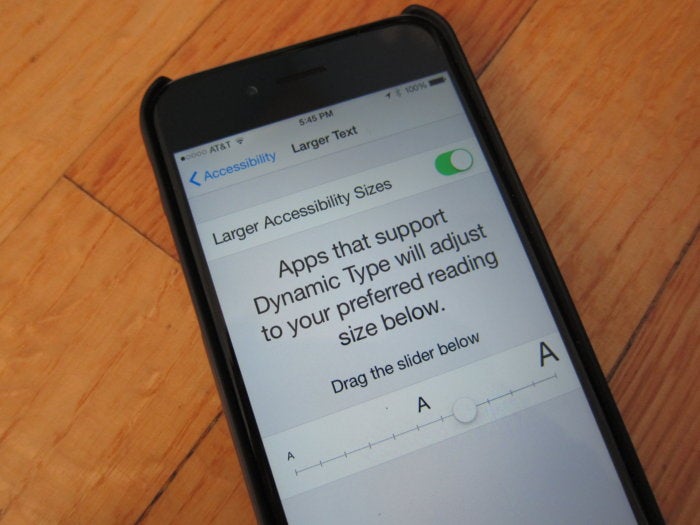 For many visually impaired users, myself included, it was a rough transition from the "classic" iOS 6 to the top-to-bottom redesign of iOS 7. While I still take issue with some of the design changes iOS 7 brought, I've grown accustomed to them and can't imagine going back to the old style. If anything, I feel the iOS 7 and iOS 8 look is much more aesthetically pleasing overall.
Still, as someone with low vision, I continue to struggle with the legibility of iOS in various parts of the system. With iOS 9 in the works, here are six things I'd like to see Apple tweak in an effort to make iOS more visually accessible.
Make the App Store more readable
As I wrote for iMore last year, it's my strong opinion that the accessibility of the App Store is arguably its biggest problem that no one talks about.
The App Store's appearance has changed since its inception in 2008--unfortunately, the font size hasn't. It is very small, making it difficult to read app descriptions and release notes. I find myself holding my iPhone or iPad inches from my face, squinting hard to read information. It's not a pleasant experience, as the squinting leads to eye strain, which is ultimately painful. Worse, I can't get the information I need because I can't see it; if I can't see, what's the point?
App search and discovery are important for Apple to get right too, but I hope the company tackles readability first and foremost. I think Apple should add a text size slider in Settings and/or support Large Dynamic Type. And it's not just the App Store that has readability issues--the iTunes Store and the iBookstore suffer from the same problem.
Make the magnification loupe and cursor bigger
I work a lot with text on my iOS devices--I'm writing this very piece on my iPad Air, in fact--and, as such, I often use the loupe to place the cursor. The problem is, I find that both aren't big enough to see. As with perusing the App Store, I find myself squinting to see where to place the cursor, and it makes my eyes uncomfortable.
Apple should add a new Accessibility setting to alter the size of the loupe and cursor. The Mac has a similar feature, letting users adjust the magnification level of the Dock icons, and the size of the mouse pointer. This would alleviate eye strain, making working with text with iOS a little easier.
Improve the text-selection interface
Related to the loupe and cursor, I'd like Apple to alter the text selection mechanics in iOS 9. The interface for selecting text has gone unchanged since its debut with iPhone OS 3, and while I've never had too much trouble using cut, copy, and paste, I feel it could be improved.