AMD Radeon graphics run Witcher 3 just fine, unless Nvidia HairWorks is enabled--and that's OK
Don't let all the sound and fury on the Internet fool you. The Witcher 3 plays just fine on Radeon hardware, despite using Nvidia's GameWorks middleware.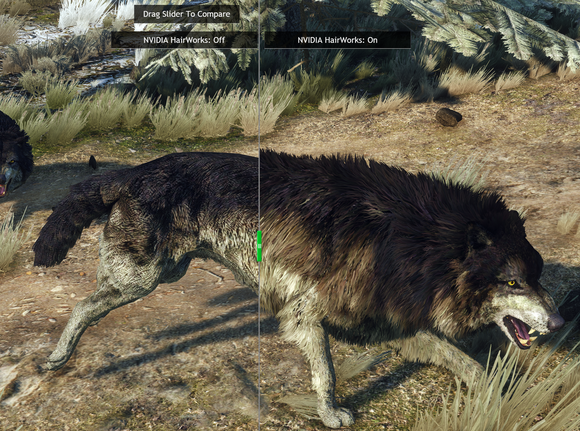 An example of how wolves appear in Witcher 3 with HairWorks both enabled and disabled.
But here's the thing: Nvidia's GeForce GTX 980 also suffered tremendously with HairWorks enabled, albeit at a far lesser scale than AMD's hardware, dropping to 41 to 43fps in the above settlement. HairWorks slammed the Radeon with a roughly 47-percent performance drop, and the GeForce card with a 16-percent penalty. The HairWorks effect sure looks pretty, but ouch.
Update: AMD's published a knowledge base article stating that Witcher 3drivers are coming, and it also details Catalyst Control Center settings you can tweak for enhanced performance with Nvidia's HairWorks.
Nvidia's own HairWorks testing showed that scenes with multiple wolves and Geralt's horse in the background saw an even more pronounced frame rate drop on a dual-Titan X setup, as you can see below. (Note that the entire configuration is drastically different than our test rig, and Nvidia obviously didn't benchmark AMD hardware.)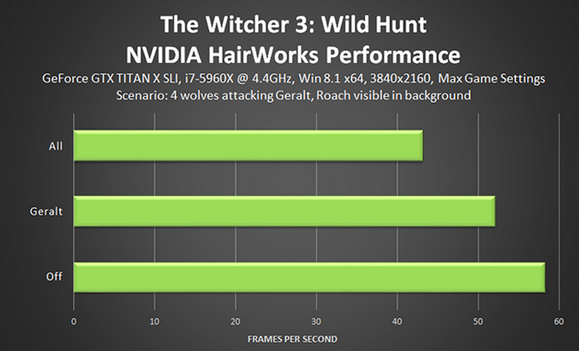 The GameWorks controversy
Basically, HairWorks creates drop-dead gorgeous hair but with a severe hit to game performance, no matter which brand of graphics card you're using. Yes, the hit is drastically more pronounced on Radeon hardware, which (unlike Nvidia's) isn't known for handling tessellation well-but Nvidia's cards still get gut-punched by HairWorks.
For what it's worth, Nvidia spokesperson Brian Burke says that Radeon hardware could've been optimized for HairWorks in a few different ways. While game developers aren't allowed to share GameWorks source code with AMD, licensees (like CD Projekt Red) can request GameWorks code and optimize it in their games for AMD hardware. AMD could also attempt to optimize performance at a binary level, rather than a source code level, Burke said-though that's far more difficult for AMD than dealing with direct source code. Finally, Burke says, AMD could've worked to get its own TressFX technology inside of The Witcher 3, much like how GTA V for PC featured proprietary shadow technology from both AMD and Nvidia.

AMD representatives didn't respond to a request for comment.
In the end, The Witcher 3 runs just as smoothly on the Radeon R9 290X as it does on the GTX 980, if you choose not to enable HairWorks, which-and this is essential-is completely optional. As I mentioned earlier, the HBAO+ GameWorks tech in The Witcher 3 is also an optional setting. These are optional benefits for GeForce users, not active detriments to Radeon users.
Don't get me wrong: There is indeed plenty to fear in a potential future where all the top games integrate proprietary GameWorks tech in their very core, crippling performance on AMD hardware-a future that feels all too possible with Nvidia's recent dominance in GPU sales.