Android A to Z: A glossary of Android jargon and technical terms
Do you know your ARM from your API from your ADB? We clear up the sometimes confusing terminology in the world of Android.
That doesn't mean ARM processors are weak, though—the processors found inside mobile devices have grown significantly more powerful in recent years, and that trend shows no sign of slowing.
The ARM architecture standard is maintained by the company ARM, which licenses their own designs for processors, processor cores, and processor architectures to other manufacturers. Samsung and Qualcomm are two major manufacturers of ARM-based processors; Apple uses its own ARM-based A-series processors in the iPhone and iPad, too.
Baseband: Your phone's baseband is, in short, the part of the phone that handles its radio connections (cellular and Wi-Fi, for example). The phone's baseband consists of a processing chip and code that work their magic behind the scenes. You normally won't have to touch your phone's baseband system software, but if you need to know which baseband version your phone is running, go to Settings > About phone.

Fastboot mode lets you access your phone's bootloader.
Bootloader: Before your phone's operating system even starts up, your phone runs a piece of software called a bootloader. Bootloaders generally run some initial startup tests and related tasks, then tell your operating system to start up. It's very similar to the BIOS on your PC in this regard. The bootloader does its work in the background, so you never see it unless you specifically choose to do so. If you know what you're doing, though, you can access the bootloader interface on your Android phone using the aforementioned Android Developer Bridge (ADB) tool.
Dalvik and ART (short for Android Runtime) are, simply put, what allows apps to run on Android. They are what's known as "managed runtime environments": Think of them as the "box" within which all apps for Android run. By running apps within a "box," developers don't have to worry as much about the device you're running the app on; Dalvink and ART also handle some under-the-hood tasks on behalf of the apps.
Android apps are based primarily on Java, and ART (and Dalvik before that) are the parts of Android that compile the Java code to run on your device. The newer ART component is faster and takes better advantage of modern processor features than the older Dalvik component.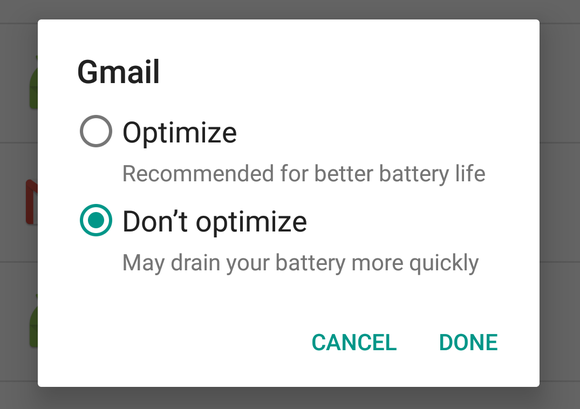 Android Marshmallow's Doze mode can seriously save your battery, but you can turn it off for individual apps if you need to.
Doze: New in Android 6.0 Marshmallow, Doze is a power-saving feature that prevents your phone from carrying out certain tasks if your phone's been sitting idle for a while. It puts your phone into a deep sleep mode and only wakes it up sporadically to handle background tasks, which saves a lot of battery power. It's on by default, but you can easily turn it off for individual apps.
Previous Page 1 2 3 4 5 6 7 8 Next Page