Android A to Z: A glossary of Android jargon and technical terms
Do you know your ARM from your API from your ADB? We clear up the sometimes confusing terminology in the world of Android.
Fragmentation: In the Android world, variety is most certainly the spice of life: Android phones come in practically every shape or size, and you'll almost assuredly find at least one Android phone you like. While this variety can be a good thing, it can also cause issues, such as apps that don't run on all current devices or slow uptake on new releases of Android. Observers often refer to this potential problem as "fragmentation."
Is fragmentation that big of an issue? That's certainly debatable. But it's probably less of a concern for "normal" users than it is for more technical folk. The wide variety of hardware and software in the Android world can be a pain for developers, whose apps have to be tested on a wide variety of devices to ensure they work right. For the rest of us, the slow rollout of new Android updates is one thing to be concerned about, if only for the security improvements that often accompany them.
HDR stands for High Dynamic Range, and it refers to a photography technique in which several photos taken at different exposures which are then combined into a single image. By snapping photos at different exposures, you can get proper exposure and detail in both the dark and bright areas of the photo. Some modern phones can take HDR photos in a single snap by carefully processing the data from an advanced sensor with a wide dynamic range.
IPS, short for In-Plane Switching, is a display technology used in LCD screens. IPS displays have a wider viewing angle compared to twisted nematic (TN) displays—the other prevalent LCD technology—largely eliminating the color-shifting issues that have traditionally affected LCDs. They also have a wider color gamut, and can accurately reproduce more colors. Among Android devices, the other popular display technology is OLED.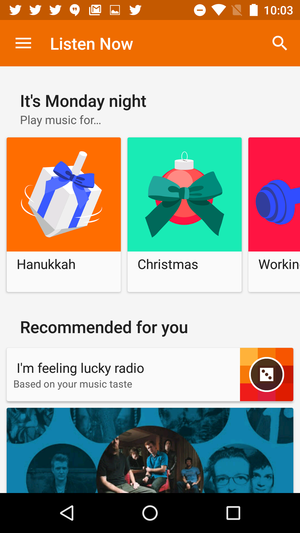 Google's Play Music app adheres to Material Design standards. Note the use of vibrant colors, drop shadows, and consistent, standardized controls.
Material Design: In Android Lollipop, Google introduced a fresh new look and feel for Android, which the company called Material Design. Material Design puts an emphasis on depth, bold graphical elements, and fluid motion to help you get a sense of place. Google currently employs the Material Design look and feel across Android, its various other mobile apps, and some of its online tools such as Google Maps and the redesigned Google+ social network.
Material Design isn't just a set of interface elements from Google. It's a clearly codified set of interface conventions that describe all aspects of how an application interface should look and behave. Fonts, colors, animations, shadows, layers, patterns, the placement of interface elements; all this and more are described in detail in the Material Design guidelines set by Google. The idea is that third-party app developers should make Android apps that have a consistent look, and operate with the same interface conventions, so they all appear to be part of a cohesive ecosystem. That way users don't get confused by changing interfaces.
Previous Page 1 2 3 4 5 6 7 8 Next Page