Android A to Z: A glossary of Android jargon and technical terms
Do you know your ARM from your API from your ADB? We clear up the sometimes confusing terminology in the world of Android.
NFC, which stands for Near Field Communication, is a technology that lets you wirelessly beam information between devices. Unlike Bluetooth and Wi-Fi—which have ranges that can span multiple rooms in your house—NFC has a range of only a few inches. It's built into many smartphones, and it's most commonly used to facilitate mobile payment systems like Google Pay and Apple Pay: Hold hold your phone up to an NFC-equipped credit card terminal, wait for the reader to recognize your phone and retrieve your payment info, and you're all done.
On Android phones, NFC can also be used to facilitate the transfer of data from one phone to another by "bumping" them together.
OLED and AMOLED: OLED, which stands for Organic Light-Emitting Diode, refers to a specific kind of display technology. Unlike LCDs, OLEDs emit their own light, so they don't require a backlight. AMOLED (Active Matrix Organic Light-Emitting Diode) is a variant of OLED technology commonly used in smartphones. HowStuffWorks has an in-depth overview of how OLED screens work and the differences between the different kinds of OLED screens.
OLED displays can have excellent color reproduction and very fast switching speeds (the ability of pixels to turn on and off). And since the pixels emit their own light, when they're off, they're completely black. Only recently have OLED displays been able to get as bright as LCDs, however, and they tend to be more expensive.
OpenGL ES: OpenGL is a set of programming APIs and technologies that developers can use as the basis of apps that employ 3D rendering. Many games are built atop OpenGL, as are many 3D modeling and design apps. OpenGL ES is a pared-down version of OpenGL built for devices like smartphones and tablets (the ES stands for "embedded systems"). The 3D games you play on your Android phone are likely built atop OpenGL ES.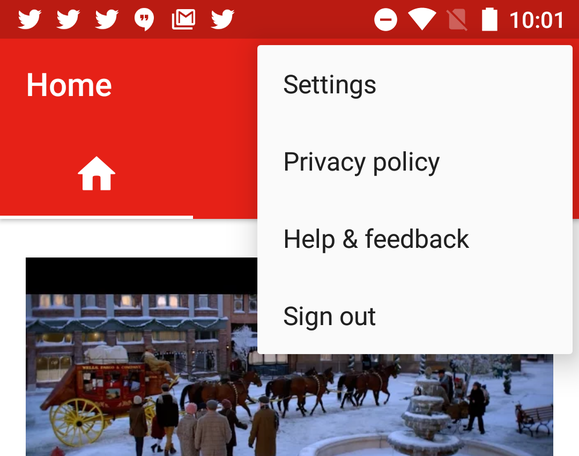 The Overflow menu as seen in the YouTube app.
Overflow button: You know the three dots that appear in the upper right-hand corner of the screen in many Android apps? It has a name—the Overflow button. Tap it, and you'll be able to get at additional options, tools, or settings that don't have a home in an app's toolbar.
Overlay: An overlay is a customized interface that smartphone manufacturers develop for their phones and place atop Android. Most custom overlays look, feel, and work similarly to unmodified "stock" Android, but are modified somewhat to suit manufacturers' and carriers' needs. Some overlays also come bundled with device-specific apps. For example, Samsung's Galaxy devices run a customized version of Android that features Samsung's TouchWiz interface and apps like Samsung Pay.
Previous Page 1 2 3 4 5 6 7 8 Next Page