Apple 'springs forward' with more than just the Watch
With the new MacBook, ResearchKit, Apple Pay and even HBO Now, Apple showed it's still innovating.
When Apple execs took the stage on Monday, virtually everyone expected them to focus on the soon-to-be-released Apple Watch. That, they did. The Watch, we now know, arrives in retail on April 24, and it did indeed get most of the attention. But it wasn't the only thing to catch my eye.
These are the five most notable announcements from Apple's Spring Forward event.
Watch this
The main star was the Watch, Apple's first real push into wearable technology. Two years ago, when the Watch was still a rumor, I was skeptical it could succeed. But after the company laid out its plans and its vision last fall, my concerns were answered. It will do well. Yesterday's event finally added most of the final details such as pricing and release date.
And it gave Apple a chance to do something it rarely does: Showcase a new device twice.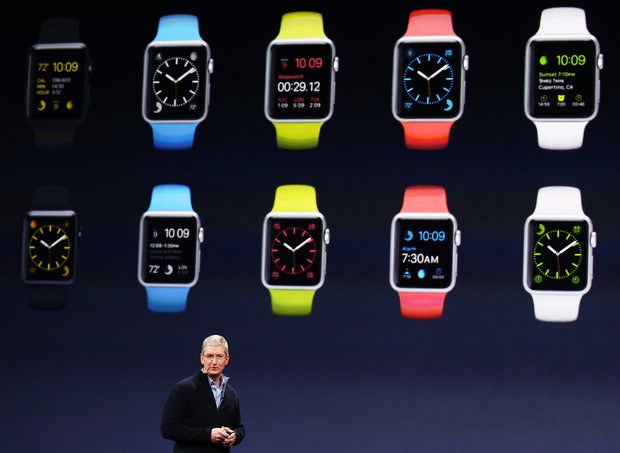 REUTERS/Robert Galbraith. Apple Watch was the main reason for Apple's Spring Forward event, but the company offered much more than a Watch update.
Apple Watch will arrive next month in three collections, two sizes, and several price ranges, depending on material and accompanying band. The anodized aluminum and Ion-X glass Sports model comes with a fluoroelastomer band, is available in Space Gray or Silver, and costs $349/$399 for the 38mm and 42mm devices, respectively.
The higher-end stainless steel model -- simply called Watch -- also comes in two sizes, two colors (polished stainless steel and space black), and with a display that's laminated in scratch-resistant sapphire. Starting prices are $549/$599 for the 38mm and 42mm devices, respectively, and that includes a black or white Sport Band. The prices in that line go all the way up to $1,099 for the 38mm Space Black model with Space Black Stainless Steel Link bracelet.
The top line is the Watch Edition, which comes in 38mm and 42mm sizes, two colors and offers a collection of bands to choose from. Edition models feature sapphire crystal displays and are made of solid 18k Rose or Yellow gold. The 38mm model starts at $10,000, the 42mm models, $12,000, and prices range up to $17,000. Apple CEO Tim Cook noted that Edition models will be limited in supply, which makes sense, given the lofty price tags.
Apple will sell Watch bands separately, and they'll be priced from $49 for the Sport Bands to $449 for Link Bracelet. You can also purchase 1- and 2-meter charging cables for $29 and $39, respectively.
One of the more frequent areas of pre-announcement speculation involved the Watch's battery life. Apple offered more detai about what to expect: expect about an hour and a half to charge the Watch to 80% (2.5 hours for a full 100% charge) and it should last all day with mixed use. (All day on a full charge means about 18 hours.) Most users will have to charge it at night.