Apple Watch expected to take a big chunk of smartwatch market
IDC puts Apple Watch at 63 percent of 2015 smartwatch shipments.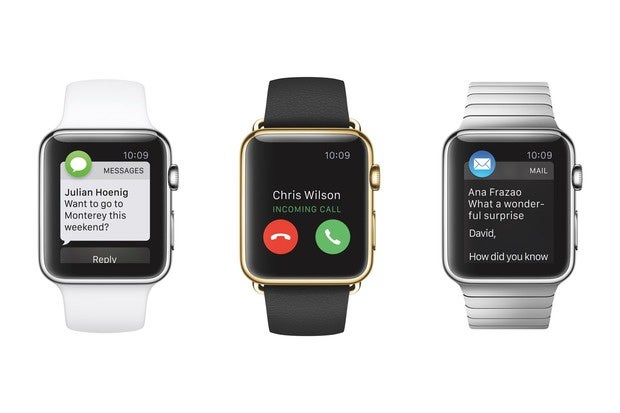 The Apple Watch is expected to snag nearly two-thirds of the smartwatch market for all of 2015, according to a new forecast from market research firm IDC.
IDC had said two weeks ago that Apple will ship to retailers about 21 million Apple Watches in 2015. That's in the mid-range of other analyst forecasts of 15 million to 30 million for the new device.
Then on Thursday IDC said that all smartwatches and a small number of other smart wearables will total 33.1 million shipments in 2015, putting Apple Watch at 63% of that total. Smart wearables are defined by IDC as devices capable of running third party apps, such as Apple Watch and Android Wear watches like the Moto 360.
The IDC prediction comes amidst some other striking analyst forecasts for the Apple Watch, but also amid questions about the overall value of smartwatches.
Financial analyst Brian White of Cantor Fitzgerald recently declared the Apple Watch will "prove to be the best selling product in Apple's history (within the first 12 months.)" Various estimates say it took one day of pre-orders to sell 1 million Apple Watches, while it took Apple 74 days to sell 1 million iPhones and 28 days to sell 1 million iPads.
Research firm Slice Intelligence told Reuters this week that about 2.8 million Apple Watches were sold through mid-June, nearly two months after the device first went on sale. Apple hasn't reported how many Apple Watches it has sold and is not expected to separately report that number in the future. Slice gets its insights by mining e-mail receipts. The entry-level Apple Watch costs $349 and is the most popular in sales, Slice said.
About 20% of Apple Watch customers are also buying a spare watch band, with the entry-level sports band selling for $49, Slice noted. IHS, which performs teardowns of popular devices, estimated that the sports band costs $2.05 to make, not including packaging, shipping and any exclusive Apple materials.
Apple looks to have a big impact on the smartwatch market for years to come. IDC said smart wearables (mostly smartwatches) of all brands will total nearly 90 million shipments in 2019, which is an 84% annual rate of growth. Apple's share is expected to stay about the same in coming years as in 2015, at more than 60%, IDC said.
Basic wearable devices and fitness bands that don't run third party apps, like those from Fitbit and Xiaomi, have dominated the market for wearables so far, but will fall behind smart wearables for the first time in 2016, IDC said.
"Smart wearables like the Apple Watch and Microsoft's Hololens are indicative of an upcoming change in computing, and the transition from basic to smart wearables opens up a slew of opportunities for vendors, app developers and accessory makers," IDC analyst Jitesh Ubrani said in a statement.