Apple's 12-inch MacBook vs. Windows laptops: Fight!
How does Apple's new 12-inch MacBook compare against similar Windows laptops? We dive into the specs.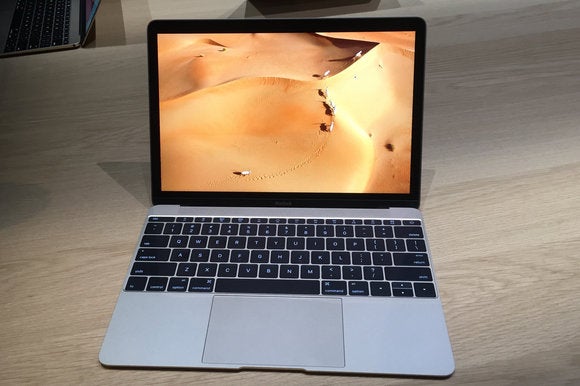 When Apple's MacBook Air made its debut in 2008, PC companies were caught flat footed and utterly unprepared for what was arguably a ground-breaking moment in thin computing designs. With the world in financial ruin at the time, it would take years for competitors to catch up.
Apple is headed into a significantly different world with the launch of the radical new 12-inch MacBook, however. If anything, Apple is the one playing catchup with PC makers this time.
Let's dive into the specs.
The Display
For an Apple ultra-light notebook, one of the most noticeable changes is the high-resolution "Retina" panel. The 12-inch display features an odd-duck resolution of 2304x1440 with an aspect ratio of 16:10. That's a big leap for Apple, especially coming from a MacBook Air lineup that still features 1440x900 panels at best and embarrassing netbook-like resolution panels of 1366x768 at worst.
Also in the good news column, the MacBook's panel is an IPS versus the TN in the two current MBAs. I know some professional photographers who don't even bother to use MacBook Airs for color critical work because of the low resolution and lack of color accuracy in their displays. Apple also said the panel it selected uses more efficient and smaller transistors, so it uses 30 percent less power at the same brightness levels as its existing products.
The unique resolution tells me Apple likely had it custom designed and built to specs. Most PC vendors like to stick to standard aspect ratios to leverage the scale in prices. Since Apple will probably sell a killzillion MacBooks over the years, it probably doesn't have to worry about it quite as much.
It's not yet known yet, but it sounds like Apple's panel could be an IGZO panel. IGZO panels are more efficient at transmitting light than a typical IPS panel so you don't have to drive the backlighting as hard for the same brightness.
Image quality, brightness, and the display's performance, can't be judged yet, but on pure specsmanship, the MacBook's display is a me-too move.
Again, it's not clear to me why Apple picked a resolution of 2304x1440 for the new MacBook Air 12--perhaps to balance power consumption?--but that works out to a PPI of 226 and a pixel count of 3.3 megapixels. In the PC world, that's just average. The 13.3-inch Dell XPS13 has an option for a 3200x1800 panel with a PPI of 276 and a pixel count of 5.7 million. Similar-resolution panels are abundant in the PC world, too. The Lenovo Yoga 3 Pro also hits the same resolution as the Dell. Plenty of other notebooks and convertibles come close or supercede the resolution as well.