Asus Zen AiO Z240IC Review: A high-res all-in-one with class. Like, you know... an iMac
Stylishly designed with a fantastic display, the Zen nearly matches the iMac's elegance.
3Dmark scored the 960M at 4,076 in Firestrike (not Extreme or Ultra), 13,262 in Sky Diver, and 17,433 in Cloud Gate--meaning it's good for moderate gaming loads at moderate resolutions. Tomb Raider benchmarked at 30fps at 2160p and 92fps at 1080p. Bioshock ran at 102fps at 720p, 147fps 1080p, and 46fps at 2160p. For the price, the Zen AiO is an able gamer as long as you're willing to drop the resolution down to 1080.
The Samsung SSD read sequentially at 1,888.4MBps and wrote at 1,511.1MBps with ridiculously low access times. If you're never seen the stats for a PCIe SSD, those are not misprints. It makes the entire Windows experience pretty much wait-free.
Note: Our first unit's display would black out with no way to reactivate it, and the second unit's flickered due to immature Intel drivers. If you get an early version of the Zen AiO, update these before you call service.
Input ergonomics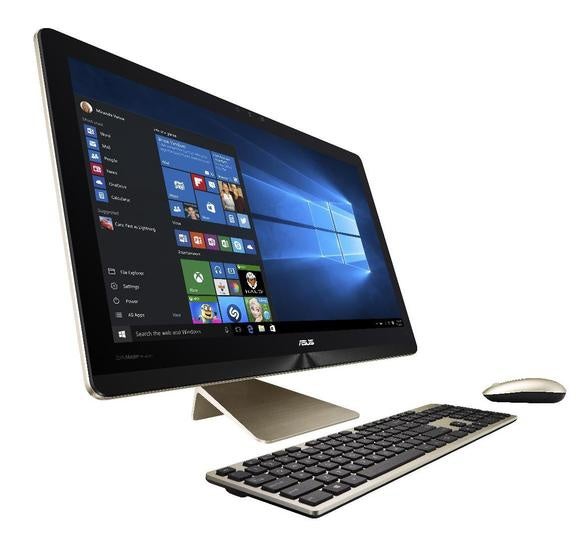 Though they're colored to match the system, the mouse and keyboard would look even better if they were "brushed" like the chassis. Credit: Asus
The Zen AiO Z240IC has a ten-point touchscreen and ships with a matching (mostly) wireless keyboard and mouse. I enjoyed the typing feel of the Chiclet-style keyboard, and the mouse was fine, but I do have two slight nits. Both plastic peripherals could use just a bit more solidity-evoking heft. And, though the colors of the keyboard and mouse match the main unit's, they lack its brushed-aluminum texture. That minutiae may not seem worthy of comment, but when you're competing with a company such as Apple that sweats the details, these things matter.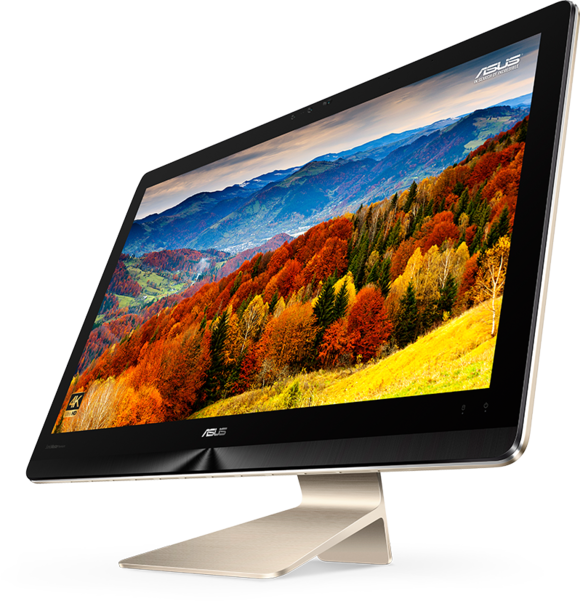 The UHD display has better color than most and there's no pixelation as with lower resolution displays. Credit: Asus
Price and advice
The Zen AiO rivals an iMac, but you definitely get more bang for the buck. Where a similarly equipped 21.5-inch iMac costs $2,400 these days, the Z240IC costs $1,899. And the former has no discrete GPU for gaming, has a smaller screen and uses a 5th Broadwell CPU vs. the 6th-gen Skylake chip. That's a pretty hefty savings and a big hardware difference. But in my opinion, an iMac delivers a sense of elegance that Asus hasn't quite captured. Then again, no PC vendor has.
I like the Zen AiO Z240IC. I like it a lot. It's stylish, it has a fantastic display, and it's fast for both everyday use and gaming. Truly, if my only complaints concern the placement of ports and the paint on the mouse and keyboard, you know it's a pretty darn good all-in-one.