Businesses on Beech Road ditched cash for one day
The move tested customers' and businesses' reactions on fully embracing a cashless society.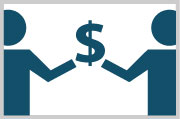 Shops and businesses on a street in South Manchester fully embraced cashless shopping last Saturday (21 June 2014).
According to a report from Manchester Evening News, businesses on Beech Road, Chorlton, only accepted debit and credit card payments on that day. Businesses that participated in the 'cashless day' include bars, restaurants, takeaways, bakery, hairdressers, convenience stores and deli boutiques.
The move was part of an experiment spearheaded by card payment provider Handepay to test customers' and businesses' reactions on going cashless.
Shopper Nicola Byrne told Manchester Evening News that the experiment proved that going cashless is a feasible move. "This experiment shows that getting everything you need with no cash in your purse is an easy experience," she said.
Besides consumers, businesses also stand to gain from going cashless. "It cuts down on queues, reduces lost sales and gives them more time to interact with their customers, " said Mark Latham, product and innovation director at Handepay.