Car apps: Ford's Sync AppLink marries car to phone, but the relationship's complicated
Many stakeholders, both from the auto industry and from the high-tech sector, are working hard to unite trendy, fast-changing smartphones with conservative, cautious cars, so drivers can use them safely together but there are still kinks.
The iPhone can't multitask, so neither can AppLink. I have to close one app before I can use another, and that's not safe to manage while driving. Ford's Marchwicki says the company is working on an update to AppLink that will allow more than one app to connect at a time. On Android, of course, this is not an issue.
AppLink also threw out alarming messages as I switched apps, stating there were problems, or that it couldn't see any apps and had to look for one. Ford's Marchwicki acknowledged these transitional messages were "not graceful."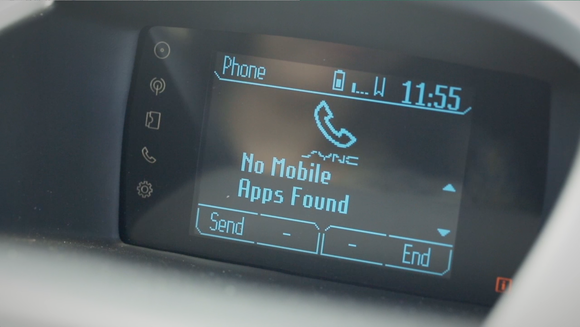 Whaddya mean, no mobile apps found? AppLink often lost its way as I swtiched between apps.
Another example of the challenges in marrying an app to a car: In Spotify, there were controls for "Shuffle" and "Info" onscreen, controlled by buttons below the screen. I actually couldn't use the controls, though. Ford's Marchwicki acknowledged this as "a top customer issue" and said newer apps can write their own commands onto the buttons.
And the voice controls... oh, the voice controls... they've never been that great on Ford Sync, and for controlling an app they were no easier. If you don't know the correct voice command—and who does?—you have to sit and listen to the system recite all of the commands for you. The list can be overwhelmingly long, and you can't stop it. By the time it was over, I'd lost track of which command I needed—and was so distracted I'd forgotten what I wanted to do in the first place.
Relationship status: It's complicated
My experiences using Sync AppLink in a 2014 Ford Fiesta weren't just the car's fault: My phone brought its own limitations, and the apps also hadn't worked out all the kinks. It shows the challenges and growing pains of this complex, yet necessary, step in car technology.
It'll be interesting to see what happens as Android Auto, Apple CarPlay, and MirrorLink become widely available in future cars. They should erase a lot of the ease-of-use issues, but they, too, have app stores to build out. Like Facebook says about relationships: It's complicated.