ClarityLife Ensemble review: A phone that can keep seniors connected
A land-line telephone with a touchscreen that helps seniors stay connected to their families.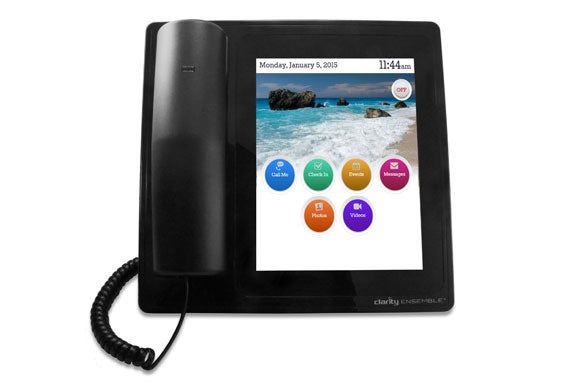 Call it a coincidence with benefits. A new land-line telephone called ClarityLife Ensemble matches almost note for note with another recently reviewed gadget for the elderly, the GrandPad senior tablet . Both devices are designed to be purchased by the children of "super" seniors (elderly folks over 75) who want to easy-to-use technology to help them stay connected to their friends and family.
Both products let you send photos, text messages, emails, and check in on seniors living at home or in assisted living. Both products are exceptional and solve the problem of leaving seniors in too much isolation. Yet, they offer slightly different features and use a radically different pricing strategy.
The Ensemble is first and foremost a land-line telephone, with a handset that's capable of amplifying the voice at the other end of the line by as much as 50 decibels. And if the phone still isn't loud enough, a free captioning service is available. The phone is augmented by a bright 8-inch touchscreen with a simple user interface consisting of large onscreen buttons that the senior taps to display photos, videos, and messages.
Anyone with the senior's ClarityLife Ensemble email address can call or send emails, and anyone who has the ClarityLife app installed on their Android or iOS smartphone can send text messages to the device. The app also lets you snap a photo or shoot a video and send it to the Ensemble (you can also send existing files).
Unlike the GrandPad, however, the Ensemble doesn't control the flow of information sent to it. Getting too much information too quickly can be overwhelming for a senior, so the GrandPad creates a sort of buffer and inserts blocks of time between the display of each new post. It's a great idea.
GrandPad also does a much better job of supporting seniors. They do an extensive on-boarding session, load custom music for the senior, and there's an option on that device to call in for support at any time. With ClarityLife, the support is more behind the scenes.
That said, the Ensemble has several features not found on the GrandPad--beyond the obvious fact that it's a phone and not a tablet. A touchscreen button labeled Call Me will send a text and email to the main family contact. It's not an emergency button, just one that lets the senior inform others that there's some issue that needs attention. I used the phone with my father and he pushed the button once when he had a question about his bank account. (I could see him using the button too often.)