Cyberattacks will compromise 1-in-3 healthcare records next year
Virtual care to become the norm.
For example, service providers such as Fortinet and Verizon offer threat intelligence monitoring applications.
In all, IDC's Health Insights group offered 10 predictions for the healthcare space, including that nearly one in six doctor visits will be virtual by 2018.
Cognitive computing
Another prediction: Cognitive computing, like that performed by IBM's Watson supercomputer, will have a tremendous affect on healthcare costs and mortality rates.
By 2018, physicians will use machine learning to identify the most effective treatment for 50% of complex cancer patients, resulting in a 10% reduction in mortality and a 10% cut in costs, IDC said..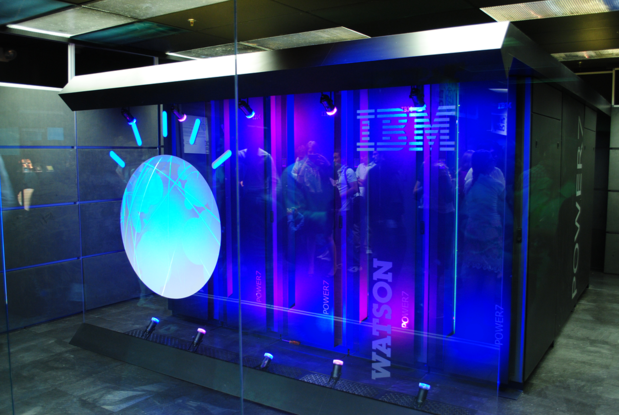 IBM's Watson super computer. Credit: IBM
Cancer will be the first disease targeted by cognitive computing, according to Dunbrack, because its treatment tends to be more expensive and the way cancer progresses is unique in each patient.
Also by 2018, 30% of worldwide healthcare systems will employ real-time cognitive analysis to provide personalized care leveraging patient's clinical data, directly supported by clinical outcomes and "real world evidence" data.
That data is information pulled from patient studies and treatment results. For example, genomic data gleaned from abnormal sequences in one cancer patient could be used in treating other cancer patients with similar cancer-causing abnormalities in their DNA.
As supercomputing gets better at aggregating and analyzing data from both structured (i.e. databases) and unstructured (i.e. radiological images, natural language processing, physician notes, clinical trials published in medical journals) sources, it can provide healthcare providers with evidence-based treatments.
Apart from clinical data, analyzing big data, which includes information about patient education, utility bills and even weather data such as regional smog and pollen counts, will play a huge role in social determinants of health, according to Dunbrack.
For example, by examining utility bills, data analytics applications can determine medical conditions that may have resulted from the inability to afford air conditioning in hot climates.
Virtual doctor visits/computer-assisted surgery to be the norm
By 2018, surgeons will use computer-assisted or robotic surgery techniques to assist in planning, simulating, and performing 50% of the most complex surgeries, according to IDC.
For example, earlier this year, a Florida hospital successfully tested lag time created by the Internet for a simulated robotic surgery in Ft. Worth, Texas, more than 1,200 miles away from the surgeon who was at the virtual controls. Next, the hospital plans to test lag times for remote robotic or "telesurgery" in Denver and then Loma Linda, Calif.
"Based on these tests, we have determined that telesurgery is possible and generally safe for large areas within the United States," said Roger Smith, CTO at the Florida Hospital Nicholson Center in Celebration, Fla., where the tests were performed. "Limitations are no longer due to lag time but factors associated with reliability, social acceptance, insurance and legal liability.
Previous Page 1 2 3 4 Next Page